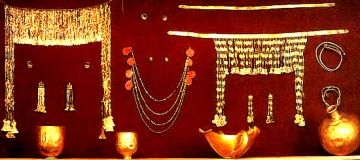 The treasure "Gold of Troy", discovered by the German businessman and self-educated archeologist Heinrich Shliman at the end of the century before last, is planned to be exhibited in one of the museums of Kazakhstan, azh.kz reports referring to newtimes.kz.
The RoK Prime Minister wrote on his official website: "We are planning to exhibit in 2015 in Kazakhstan 'Shliman's Gold". This will be a unique event. Shliman's gold is at Pushkin State Museum of Fine Arts in Moscow, informed the Minister of Culture and Sports Arystanbek Mukhamediuly at the governmental hour in Mazhilis.
He also informed that the issue of exhibiting in Kazakhstan "The Gold of Troy" is currently discussed with Irina Antonova, the head of Pushkin Museum, who arrived to Kazakhstan.
"Gold of Troy" is the sensational treasure found by Heinrich Shliman during excavations in Troy, Turkish Asia Minor, on May 31, 1873. The discovery dates back 2400-2300 B.C.
In 1945 the wartime museum director in the bombed-out Nazi capital, the professor Wilhelm Unverzagt handed over the "Gold of Troy" treasure together with other works of ancient arts to the occupying Soviet forces at their command. The treasure was transported to the USSR where "trophies" from Berlin were stored in a secret depot. Only in 1993 the government of Russia declared that treasures of Troy are in Moscow.
On April 16, 1996 "Gold of Troy" was first exhibited at the Pushkin Museum of Moscow.
Translated by Zeena Urynbassarova
September 22 2014, 16:15