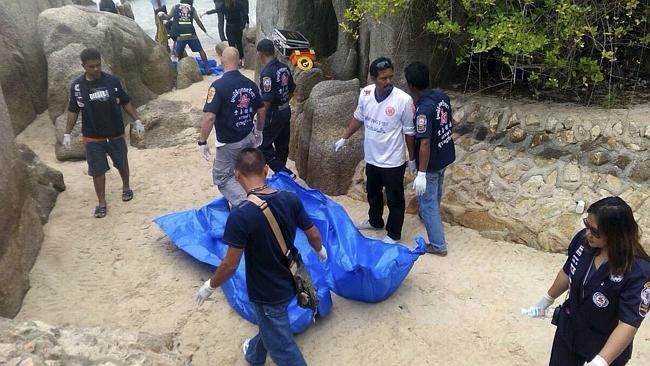 THAI police have detained three migrant labourers from the neighbouring country of Mynmar in connection with the brutal murders of British backpackers on the holiday island of Koh Tao in the early hours of Monday morning.
The trio were detained after the country's Prime Minister ordered a manhunt for the culprit(s).
The pair's nearly naked bodies were found on a beach on a scenic island in southern Thailand, home to one of the country's most popular diving destinations.
The victims, a 23-year-old woman from Great Yarmouth, Norfolk, and a 24-year-old man from Jersey, Channel Islands have been identified as Hannah Witheridge and David Miller.
Police Major General Keardtipong Kawsumarng told media that the pair had arrived on the island on Friday, September 12, after attending the full moon party on the nearby island of Koh Phangan on September 9.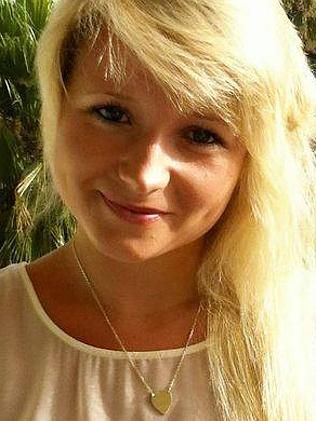 Shocking ... Hannah Witheridge was the other victim. Picture: Facebook Source: SuppliedAt the time, they didn't know each other but checked into the budget Ocean View Bungalows near the island's main beach Sai Ree, where their bodies were found.
On the night they were killed they went out with each other to a local club and about midnight they left for a stroll on the beach, Keardtipong said.
After checking CCTV footage, he said police identified a topless, man of Asian complexion wearing shorts, whom they described as appearing "suspicious looking" in the same vicinity as the murdered tourists.
The bodies are being kept at the Police Hospital for forensic examination.
It has emerged that another British man who was thought to have been with the couple before they died — and at one stage appeared to be a suspect — did not flee to Bangkok and has already been interviewed by police who have said they wish to interview him again.
A bloodied hoe was found near the bodies and is believed to have been used as the murder weapon, police Colonel Prachum Ruangthong said. "The man was chopped in the back and on the side of his head, while the woman was chopped in her face," he said. "It's very gruesome."
The woman is feared to have been raped during the attack in what could be a motive for the killing. Police also say it could have been a robbery gone wrong.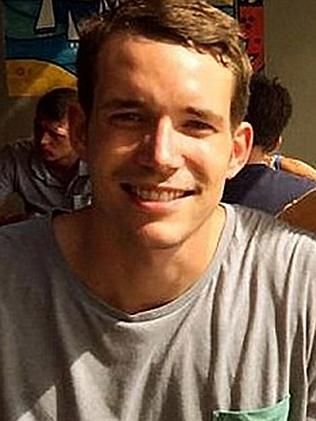 Tragic ... David Miller is one of the victims. Picture: Facebook/Nick Razzell Source: SuppliedA British Foreign Office spokesman said: "We are aware of the death of two British nationals on September 15 on the island of Koh Tao in the Gulf of Thailand. The Embassy are urgently seeking information from the local authorities and Consular staff stand ready to provide assistance to friends and family at this tragic time.
"The Consul from Bangkok is travelling to Koh Tao as soon as possible."
"We don't know who the suspect might be yet but we have talked to different witnesses who might lead us to some clues," Kiattipong said. He said the woman was travelling with three other friends.
There is some confusion surrounding the circumstances leading to the pair's death, however, as other reports have emerged stating that all three Britons did not know each other but became friends after they arrived on the island separately at the end of August.
The Mirror reports they all arranged to go out together on Sunday night and then left a bar together where they attended a party on a beach.
Local media reported that outraged residents of the island, which is home to about 2,000 people and survives on tourism, had blockaded its piers to help police prevent the killer from escaping.
"It was the first time this has happened on the island, I have never seen anything like this," he said.
Such incidents are not unheard of in the region and deaths of young people — usually drink- and drug-related — on the islands in the area not uncommon.
The following warning has been long posted on the British Embassy website:
"There have been sexual assaults against foreign men and women, especially in the Koh Samui archipelago (which includes Koh Tao) and Krabi province. Tourists have also been robbed after bringing visitors to their hotel rooms.
"In some cases their drinks were drugged. Be careful about taking drinks from strangers and at clubs and parties, particularly in Koh Samui, Pattaya and at the Full Moon party on Koh Phangan, where date rapes have been reported.
"Alcohol and drugs can lead to you being less alert, less in control and less aware of your environment.
"If you drink, know your limit. Drinks served in bars overseas are often stronger than those in the UK. Some British nationals have suffered severe psychiatric problems because of drug use, resulting in some suicides."
Tourism and Sports Minister Kobkarn Wattanawarangkul said the matter would be raised at the cabinet meeting.
Deputy Prime Minister and Defence Minister Prawit Wongsuwon said Koh Tao had been sealed off.
The attack came amid government efforts to revive Thailand's tourism industry after a military coup in May ended prolonged, sometimes violent political protests.
Martial law remains in effect.
Koh Tao, an island in Surat Thani province, is a quieter destination than the neighbouring islands of Koh Samui and Koh Phangan, where "full moon" parties attract travellers from Thailand and abroad. It is 410 kilometres south of Bangkok.
September 16 2014, 12:39