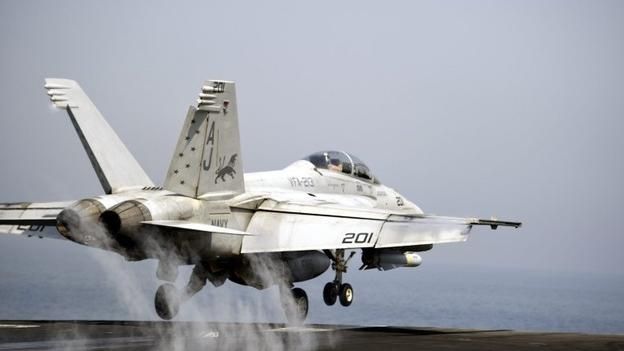 The US has carried out airstrikes in support of Iraqi troops under attack by Islamic State, the military says, the first under an expanded mission.The US has carried out airstrikes in Iraq in support of troops who were being attacked by Islamic State (IS) fighters, the US military has said.
It said that the attacks took place on Sunday and Monday near Mount Sinjar and south-west of Baghdad.
They were the first made as part of expanded efforts outlined by US President Barack Obama last week.
Meanwhile Iraq has criticised the decision not to invite Iran to an international summit on the IS threat.
Foreign Minister Ibrahim al-Jaafari said the decision was "regrettable".
Thirty countries pledged to join a US-led coalition against IS in Paris.
The militant group, which originated in Syria, has swept through parts of western and northern Iraq in recent months and now controls large areas of both countries.
Obama decision
The US military statement said that the airstrike south-west of Baghdad was the first taken as part of "expanded efforts beyond protecting our own people and humanitarian missions to hit [IS] targets" as Iraqi forces go on the offensive.
It said that the strikes were in support of the troops, adding that six IS vehicles were destroyed near Sinjar, and a militant fighting position south-west of Baghdad.
The statement said that all aircraft exited the strike areas safely.
The US has conducted a total of 162 airstrikes across Iraq since August.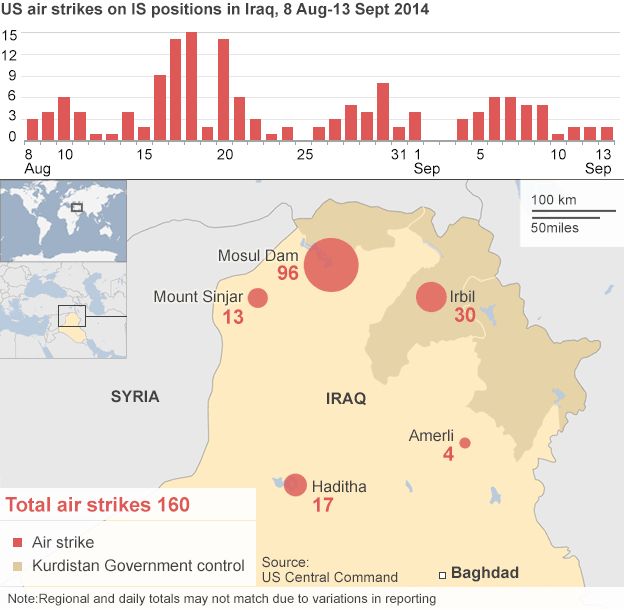 Officials say the latest strikes reflect the recent decision by President Obama to attack IS positions wherever they are.
Previous US airstrikes in Iraq were carried out to protect American interests and personnel, help Iraqi refugees and secure infrastructure.
Monday's talks in Paris had been called to agree a strategy to combat IS, which the CIA estimates to have between 20,000 and 31,000 fighters in Iraq and Syria.
Speaking after the conference ended, Mr Jaafari said that he regretted the absence of Iran.
"We believe that all world countries are concerned about the danger of terrorism" he said.
"Iran is our neighbour, it assisted us and it should have been present, but we are not the party responsible for inviting parties," he added.
He went on to say that he does not expect foreign ground troops to become militarily involved in either Iraq or Syria.
Together, Iran and Syria share most of Iraq's borders, but relations between them and the US are fraught.
Last week US Secretary of State John Kerry ruled out co-operation with Iran, citing its "engagement in Syria and elsewhere".
But Iranian Supreme Leader Ayatollah Ali Khamenei said on Monday that the US had requested Iran's co-operation via the US ambassador to Iraq.
"I said no, because they have dirty hands," he said. He added the US was seeking a "pretext to do in Iraq and Syria what it already does in Pakistan - bomb anywhere without authorisation".
Syria also did not take part in the Paris gathering.
Meanwhile, France said it had begun surveillance flights over Iraq. Britain revealed in August that its aircraft had been gathering intelligence over Iraq.
The militant group's former name was Isis and it has also been known as Isil (Islamic State in Iraq and the Levant).
September 16 2014, 10:22