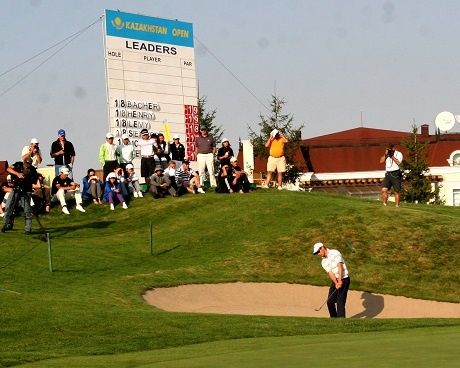 The opening of the 10th anniversary of Kazakhstan Open-2014 golf tournament will take place on Sept 18 in Alma-Ata at "Zhailau'" golf resort. The tournament will close on September 21, azh. kz reports.
The main golf tournament will take place from September 18 till September 21 and during 4 days the best world players will compete for the champion title of Kazakhstan Open-2014. It is expected that the number of well-known golf players, guests of honor and masters of sports coming to the tournament will exceed 150 people.
The winners of the previous "Zhailau" Kazakhstan Open tournaments are expected to arrive, as well as the players of Challenge and European rounds. The tournament promises to organize interesting games both for players and fans. Alexander Vangai, Nurtai Saldarov and Nurlan Makulbekov will be among the representatives of Kazakhstan. They are the prize-winners of the RK-2014 championship among amateur players.
Evgeny Kafelnikov, the Olympic champion of 2000, the well-known Russian tennis player will arrive to the event.
The prize fund of the Kazakhstan Open-2014 golf tournament amounts to 450 thousand euros.
Nurtai Abykaev, the president of Kazakhstan Federation of golf noted that Kazakhstan Open turned into one of leading tournaments of European Challenge rounds and became a, so called, "smithy" of stars of world golf.
Inclusion of golf into game space of Kazakhstan became possible thanks to support of the President of the Republic Nursultan Nazarbayev and today the international golf competitions in Kazakhstan represent a unique platform for building partner and friendly relations of Kazakhstan with many CIS countries and abroad.
The ceremonial opening of tournament will take place on September 17, 2014 at 17:00.
On September 20 the organizers will organize an open lesson for kids. Prize awarding ceremony will take place on Sunday prior to solemn closing of the anniversary of Kazakhstan Open-2014 golf tournament.
Translated from source: sportinfo.kz
September 16 2014, 10:17