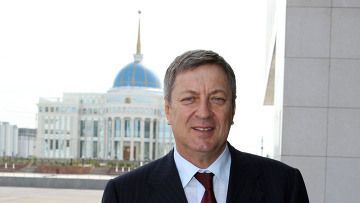 Photo: Newskaz.ruKazakhstan's Energy Minister Vladimir Shkolnik urged Kazakhstan's people to cut down expenses on petrol, more actively relying on public transport and carpooling, Tengrinews.kz reports.
"We need to start being more austere as it is done in the rest of the world … I am calling to do just that … If there is a possibility, you'd better not commute to work driving a gas-guzzling SUV (…) people living next to each other could consider carpooling", Mr. Shkolnik told journalists today when commenting on the situation in the country's fuel market.
According to him, carpooling is a common practice in some countries. "I know in Germany people resort to lift-sharing or rely on public transport in tough times of rising prices (…) let us be thriftier in the same way. It's time for government officials and others riding a huge SUV with no passengers in the car to shift to smaller cars", he said.
When broaching the subject of fuel shortages in Kazakhstan, Mr. Shkolnik admitted the deficit and cited the current overhaul of the country's oil refineries as the main reason behind the shortages. "We do admit the deficit; the shortages have been caused by the overhaul works in progress aimed at boosting production of higher octane types of fuel", the Minister said.
He elaborated that the annual gap between production and consumption of the most common AI-92 petrol stands at 140 000 – 150 000 tons, with the gap normally bridged through fuel supplies from the neighboring Russia where fuel prices have been recently growing.
"All the times we have been supplying petrol from Russia (…) since last winter to August the Kazakhstan's Government maintained the domestic prices unchanged, however Russia has significantly raised its prices. Currently a liter of AI-92 petrol in Russia costs around $0.9, whereas in Kazakhstan the price has recently risen from $0.62 to $0.69. Those supplying petrol from Russia are making losses given the price regulation in Kazakhstan", Mr. Shkolnik said.
According to him, bulk purchase of petrol to be imported from Russia is done by government-owned enterprises, with the difference [between the price levels in the two countries] being subsidized at the expense of KazMunaiGas National Oil Company.
When asked if the Government was planning to further hike the prices, Mr. Shkolnik said the decision would depend on the market conditions. "You can choose between constant shortages over low prices or wide availability of a slightly more expensive petrol", he suggested.

Source: Tengrinews.kz
September 3 2014, 15:37