By Saule Tasbulatova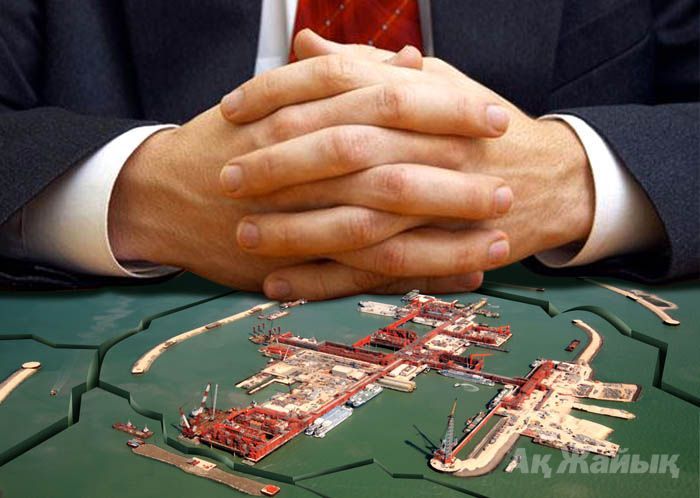 Collage by A. DenissovSince the pipeline incident and stoppage of crude production, no news on Kashagan and Karabatan came. Our journalistic inquiries addressed to the NCOC media service still remain unanswered. Informal sources only told us repair works at two wells at A and D islands have recently been completed.
As a whole, about 400 wells have been drilled at Kashagan to the date. With the start of first oil on September 11, 2013 just two of them were re-activated. One on each island. Sources say that was rather for preventive maintenance purposes.
Kashagan's incident history
No we look through the timeline of leaks that eventually led to the full stoppage of production at the field:
August 25, 2013 - a leak occurred in a valve in the oil and gas separation section during the testing of pipelines and units at the offshore complex and Bolashak Plant. Fortunately, the test had been carried out using H2S-free gas from Makat;
September 11, 2013 - production at Kashagan kickstarted;
September 24, 2013 - in a scheduled audit of the onshore pipeline was detected "slight presence of gas at a distance of nearly 2km from Bolashak Plant. Gas leak alert signals at the plant were not activated, no threat to personnel," according to a NCOC press release.
Later we revealed that the remaining gas was flared at Kashagan's onshore and offshore facilities. 700,000 cubic meters of high concentration sulfuric gas were burnt that day. On the fact, Atyrau Oblast's environmental department conducted an unscheduled audit into the consortium's activities, which, by the way, had been initiated by KNB (National security committee). In a letter, the committee requested audit on three episodes - fluids spillage on September 12, 2013, H2S leakage on September 24, 2013 and H2S leakage on October 9, 2013.
October 6, 2013 - production resumes;
October 9, 2013 - a technical failure at D Island operational facilities brought a pause in crude production. "Such insignificant incidents are common for startups of big, technologically complex facilities," NCOC media service stated on the matter.
October 14-16, 2013 - when looking for possible defects at other parts of the gas pipe were found four more leaks in weld joints.
Agip KCO and NCOC received environmental bills amounting 134 billion tenge. The consortium said the gas line and oil pipeline would fully be replaced and announced a forced shutdown for minimum two years.
In its short production history Kashagan gave total 320,000 barrels of oil.
Write 12,9% knowing it's 16%?
All troubles began from the gas pipe. As is known, its construction commenced on August 11, 2005 and finished on May 25, 2012. Its overall length is 95km (66km under the sea, 29km on the land), diameter - 70cm.
According to a resolution issued by the state environmental expert review on June 22, 2005, these gas pipes were designated for transportation of dehydrated highly sulfurous gas with the maximum H2S concentration of 12.9%. However, H2S in Kashagan's associated gas makes 16% in fact. Seeing this difference in figures the environmental ministry approved the project, that's an interesting question.
Going all to pieces
According to NCOC media service, the pipes were provided by two Japanese firms - Sumimoto and JFE. Saipem, the general contractor, laid them down and welded. Investigation later showed almost all the cracks were on welding joints.
After the November 2013 leaks at Karabatan Sicim began repairing works in association with KCOI (Kazakhstan Caspian Offshore Industries). Both were Italian companies that did pipe cutting, grinding and welding. Turkey's Kazen performed radiographic works.
Witnesses say when the pipeline was being cut into parts the segments would jump off each other for as near as a meter, making it apparent that welds had been under great tension. Sounds like the welding technology had been seriously violated.
As the attempts to fix the pipeline brought no results, they chose to remove it. At that, the public is not aware which part of the pipe was dismantled, onshore or offshore?
On own expense plus 30mln
The Kashagan pipeline is not a joke. Its full replacement and a two-year crude production stoppage will entail huge consequences. Yet, no name was announced, no one held liable neither in the government nor in the consortium. No one knows who approved the gas line on behalf of the state.
Good that in early August the minister of oil and gas Uzakbai Karabalin cooled down the people by saying "In line with the agreements and addendums made in 2012, before full commercial production at Kashagan the contractor should pay $30mln to the state for every quarter of idle stay."
He again confirmed that all operations related to laying pipes, launching the field through the start of oil production will not be compensated to the contractor and will be done at the contractor's expense, not at the cost of future oil.
August 26 2014, 15:17