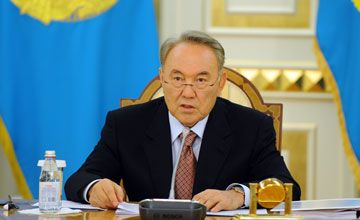 Photo: inform.kzKazakhstan can share the fate of Ukraine in the case of the ban of all languages​​, except the state one in the country, stated the President of Kazakhstan, Nursultan Nazarbayev in an interview with the republican television channel "Khabar".
"Let's suppose we have a legislative prohibition of all languages ​​other than Kazakh. What awaits us then? Fate of Ukraine! Should I force all to the Kazakh language and lose independence in bloodshed, or solve the problem prudently? That's the matter... What we choose? Therefore, I believe that this issue needs patience," he said.
The President noted that the population is growing in Kazakhstan, as well as the influence of the Kazakh language. "In the areas clerical work is carried out in the Kazakh language, and no one prevents it. Moreover, there are many other ethnic groups who speak the Kazakh language. We should appreciate our language ourselves," said the president.
In addition, the President called on writers and other intellectuals, who argue that the Kazakh language can not "get up off its knees" during the years of independence, not to exaggerate the situation around the use of the state language.
"If you think you are unhappy, you will be so. If a man says he is happy, he will be happy then. We will not have a language if we constantly insist that we do not have it. No need to arrange a panic, we must use the Law "on languages", speak Kazakh, we have to communicate freely in our own language and to show this example to others," Nazarbayev said.
Source: Trend
August 25 2014, 16:02