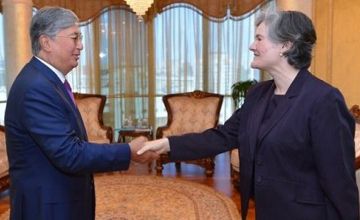 KAZINFORM ASTANA. KAZINFORM - Chairman of the Senate of Kazakhstan Parliament Kassym-Jomart Tokayev has received British Ambassador in Kazakhstan Carolyn Browne at her request, the press service of the Senate informs.
Speaker of the Senate noted the importance of British Prime Minister David Cameron's visit to Kazakhstan last summer. His talks with President Nazarbayev laid the foundation for qualitative growth of cooperation between the two countries in trade, economic and political spheres. In this regard, K.Tokayev called for further development of contacts between parliamentarians of the two states within the framework of the OSCE Parliamentary Assembly.

The two sides exchanged views on the international situation. C.Browne expressed concern on the continued escalation of the conflict in the Ukraine. K.Tokayev drew attention of the British ambassador to the efforts of Kazakhstan President Nursultan Nazarbayev to find ways out of the Ukrainian crisis, which has become a serious problem with far-reaching consequences for the international situation.
Source: KAZINFORM
August 19 2014, 16:04