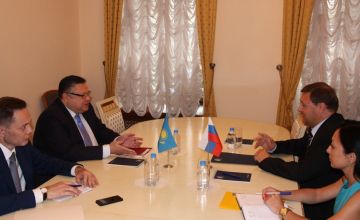 Ambassador Extraordinary and Plenipotentiary of Kazakhstan to Russian Federation Marat Tazhin has met with the chairman of the Federal Agency for CIS Affairs, compatriots living abroad and International humanitarian cooperation Konstantin Kosachev, according to the website of the Embassy of Kazakhstan.
"During the long, meaningful conversation K. Kosachev informed the head of the Kazakh diplomatic mission about the Agency's activities, introduced new challenges, chief of which is "the work with compatriots abroad at the individual level, the satisfaction of their cultural and humanitarian needs", the statements reads.

In turn, M.Tazhin noted the active work carried out by the Agency throughout the world in the field of humanitarian cooperation, support and preservation of rich cultural heritage of Russia.

Speaking about the current state and development of the Russian language in Kazakhstan, the parties confirmed that it is demanded by society along with the Kazakh language and does not need any "protection" from the outside.
Projects of "Russian cooperation" implemented in the field of improving the teaching of the Russian language, the linguistic training of Kazakhstan specialists, organization of festivals, tours of leading Russian theaters can make an invaluable contribution to the development of a common cultural and humanitarian space of Kazakhstan and Russia.

Practical elements of effective collaborative work, according to the Ambassador of the Republic of Kazakhstan to the Russian Federation, can be performed by a meeting of the Kazakh and Russian writers in Moscow, the implementation of the target program for translation into Kazakh of the outstanding cultural works by Russian authors including Dmitry Likhachev, Lev Gumilev, and Vasily Alexeev. The parties also spoke about the organization of regular exhibitions of leading Russian museums - the Hermitage, the Tretyakov Gallery - in the museums of Kazakhstan, especially in the new National Museum in Astana.

In conclusion, Ambassador of the Republic of Kazakhstan to the Russian Federation and the head of "Russian Cooperation" confirmed their mutual commitment to strengthen the real interaction - both by the Embassy of Kazakhstan, and by government agencies and non-governmental organizations of the two countries.
August 15 2014, 15:50