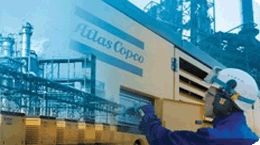 Swedish industrial company Atlas Copco has won orders for compressed air and gas purification equipment to be delivered to Tengizchevroil. The total order value is close to 40 million euros (370 million Swedish kroners) ($1.34 =1 euro), azh,kz refers to trend.az.
Atlas Copco was selected to manufacture and deliver air compressors, cooling systems and air and gas purification packages to be installed as part of the project to expand production at the Tengiz oil and gas field in western Kazakhstan.
The deliveries will be done for the Future Growth Project and Wellhead Pressure Management Project implemented at Tengiz field.
The orders were placed in the second quarter of 2014, and delivery is scheduled for early 2016.
Tengizshevroil, the largest oil producing enterprise in Kazakhstan, produced around 27.1 million tonnes of oil as of 2013, which is 8 percent more than in 2012. The company conducts production at the Tengiz field discovered in 1979.
Tengiz is one of the deepest and largest oil fields in the world.
Tengizchevroil LLP was founded in 1993, on the basis of the agreement signed between Kazakhstan and Chevron Corporation. Currently, the partners of the TCO LLP are: Chevron - 50 percent, KazMunaiGas - 20 percent, ExxonMobil - 25 percent and LukArko - 5 percent.
Atlas Copco is a world-leading provider of sustainable productivity solutions. The Group serves customers with innovative compressors, vacuum solutions and air treatment systems, construction and mining equipment, power tools and assembly systems. Atlas Copco develops products and service focused on productivity, energy efficiency, safety and ergonomics.
August 14 2014, 17:38