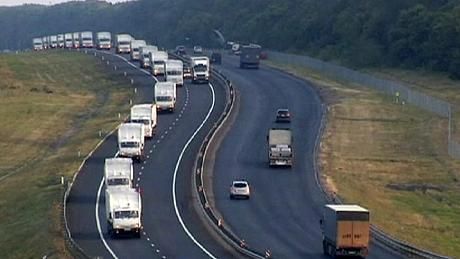 A Russian aid convoy has been seen moving towards the Ukrainian border, euronews reports.
On Wednesday the 260 lorries had stopped some 500 kilometres short of the border in the southwestern town of Voronezh.
The lorries parked up behind the high fences of an air base in the town and according to eye witnesses remained there all day on Wednesday.
Kyiv was adamant the convoy would not be allowed to pass but there has been a softening in its approach and has looked to the red cross to provide a compromise.
The Ukrainian president's press secretary said that the cargo would be scanned at the border and that when it arrived in Luhansk, the Red Cross would distribute it among civilians.
The International Red Cross says it is still waiting for a more accurate list of all goods the trucks contain it can organise any distribution.
Ukraine and western leaders have accused Russia of planning a covert military incursion.
August 14 2014, 15:47