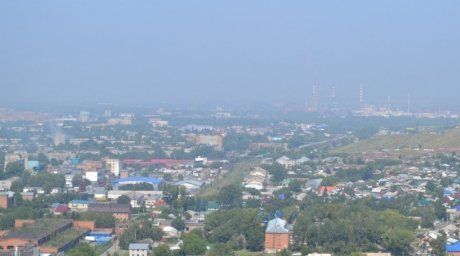 Fog or pollution? Photo ©yk-news.kzOn August 7, there was a fog in the city of Ust-Kamenogorsk in Kazakhstan. Or was it fog? Kazakhstan's National Hydrometeorological service reported a high level of hazardous air pollutants that appeared to look like fog, tengrinews reports.
Fixed monitoring stations of Air and Environment Ecological Safety Service detected an increase in concentration of sulfur dioxide, chlorine and hydrocarbon in the air. "It definitely is not a fog. Possibly, the reason is an atmospheric discharge or an increase in humidity. It is hard to be sure at this point. The Emergency Services have already called us about unfavorable weather conditions. We are urgently processing the data from the mappings to give results soon," the Kazhydromet office stated.
At 10:30 am, 5 out of 10 monitoring stations indicated the highest level of air pollutants. "For example, the data from Auezov Avenue showed sulfur dioxide exceed its maximum permissible concentration three times. The station at Mendeleev Street in Novyi Sogry District showed an increase of chlorine in the atmosphere by one and a half time," the office explained. In addition, the level of hydrocarbon in the atmosphere indicates excessive concentration of harmful materials in the air.
However, the Center of Ecological Safety (CES) insists that the white haze is in fact an ordinary fog. "It is just a fog over the city. But it is important to see if the tests of Kazhydromet shows an increase of air pollutants or not," Gennady Koreshkov of the CES said.
That said, the CES did not confirm the critical level of hazardous air pollutants.

For more information see:http://en.tengrinews.kz/environment/Air-pollution-at-critical-level-in-Ust-Kamenogorsk-255244/
Use of the Tengrinews English materials must be accompanied by a hyperlink to en.Tengrinews.kz
August 8 2014, 12:47