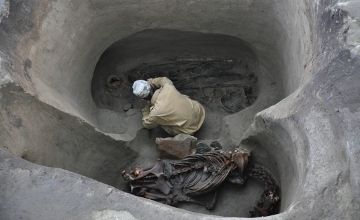 Kazakhstan's scientists led by archeologist, Doctor of Historical Sciences Zeinolla Samashev announced that they had unearthed the burial tomb of an ancient warrior in Altai, the Turkic Academy's press service said.
The burial site contained weapons dating back to VII century, broadly a helmet, a quiver, an arrow, a sword, a sabre and horse bones and harnessing. They also found a musical instrument looking like a kobyz (an ancient Kazakh string instrument). The well-preserved man is believed to be in his 40s at the time of his death. Experts will determine yet his exact age.

Last year two archeological groups discovered two ancient musical instruments at the same place.
August 7 2014, 12:29