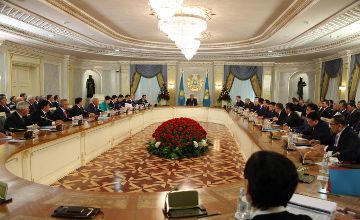 Kazakh President Nursultan Nazarbaev has announced a major streamlining of the government, azh.kz refers to rferl.org.
Nazarbaev said at a cabinet meeting on August 6 that the number of ministries would be cut from 17 to 12.
Kazakhstan's Financial Police was dissolved and its functions transferred to the Agency of State Service and Anticorruption Efforts. Kazakh Security Council Secretary Kairat Kozhamzharov was named as the agency's chief.
The Emergency Situations Ministry was also closed and its duties transferred to the Interior Ministry.
The ministries of health and social protection were merged into one ministry, to be led by the former minister of social protection, Tamara Duisenova.
Two new ministries will also be formed -- the Ministry of Investments and Development and the Ministry of Energy.
Nazarbaev explained the changes by saying it was a "necessity to have an effective and compact government."
August 6 2014, 14:47