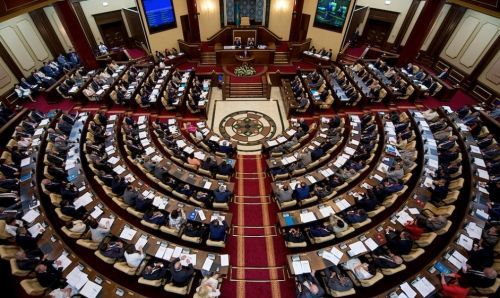 The elections of the Senators of the Parliament of Kazakhstan are set for October 1 according to the decree signed by President of Kazakhstan Nursultan Nazarbayev, akipress reports citing the press service of the President.
250 international observers will monitor elections to the Senate of the Parliament of Kazakhstan, said head of the Kazakh CEC Kuandyk Turgankulov to Kazinform.kz.
"The Kazakh Foreign Ministry and the Central Election Commission (CEC) will open international observers' institute for the purposes of realization of the principle of openness and transparency during organization of election campaigns," he resumed.
The elections are due to expiration of the constitutional term of the Senators who were elected in October, 2008.
The Government of Kazakhstan, mayors of Astana and Almaty, and other officials were tasked to take measures for organizational, material and financial security of elections.
The decree comes into force from the day of its official signing – July 31.
The Senate - upper house of the Parliament – has 47 members, 15 of whom are appointed by the President and 32 are elected by the house of representatives (2 persons from each region, the capital and the cities of a republican significance.)
The Senators are elected for 6-year term, the half of them are elected each 3 years.
August 5 2014, 10:55