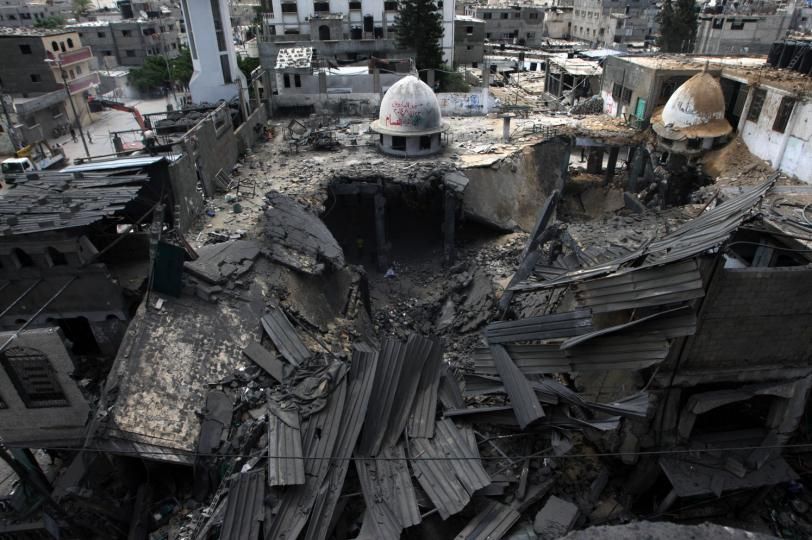 Israel declared a seven-hour humanitarian cease-fire Monday, according to the Israel Defense Forces, but a spokesman for Hamas said it's not agreeing to the cease-fire, cnn reports.
The cease-fire started at 10 a.m. local time (3 a.m. ET) Monday, but the IDF said it does not apply to the areas around Rafah where Israeli soldiers are currently operating.
Shortly after the start of the cease-fire in Gaza, residents flooded the streets to pick up supplies and check on their abandoned homes. Al Saha, the largest open-air market in Gaza, was bustling with vendors. One man hung clothes for sale from the burnt-out carcass of a bus struck a few days ago by Israeli fire power. Cars jammed Gaza's main road, but the atmosphere appeared relaxed and children played in the street.
Twenty minutes into the cease-fire, Israeli forces carried out a strike on a house in a refugee camp in Gaza City, said Gaza Health Ministry spokesman Dr. Ashraf el-Qedra. The strike killed an 8-year-old girl and wounded around 30 people, most of them children, he said.
"That's not true," Mark Regev, the spokesman for Israel's Prime Minister Benjamin Netanyahu, told CNN's Anderson Cooper. "When we give an order to our forces to hold fire, they hold fire. From 10 o'clock this morning local time, we have ceased all offensive operations against terror targets in Gaza except for specific locations such as Rafah." Regev also said Israel is reviewing the claim.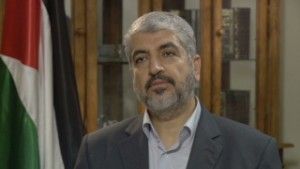 Hamas' political leader Khaled Meshaal.CNN crews on the ground did not directly witness a violation of the cease-fire by rocket fire or otherwise.
The IDF said that since Israel started the cease-fire, three rockets have been fired from Gaza into Israel. All three rockets landed in open areas.
"The IDF will respond to any attempt to exploit this window to harm Israeli civilians and IDF soldiers," the forces said in a statement.
Daniel Mansour, a senior Palestinian Islamic Jihad operative in charge of intelligence-gathering in northern Gaza, was targeted and killed before the cease-fire Monday, the IDF said. He had participated in directing rocket attacks toward Israel, the IDF said.
He told CNN that it would be impossible that there were Hamas fighters in every place where civilians have been killed and buildings destroyed.
Hamas' political leader Khaled Meshaal
As fighting rages between Israel and Hamas militants in Gaza, Hamas' political leader, who lives in Qatar, sat down with CNN for an exclusive interview.
Khaled Meshaal, a 58-year-old former teacher, has had the role since 2004, after Hamas' then-leader, Abdel Aziz al-Rantissi, was killed in an Israeli airstrike.
Meshaal is known as Hamas' external deal-maker, raising money from supporters in the region.
"It is unfortunate that the American administration and President Obama have adopted the Israeli narrative, which is a lie. Hamas sacrifices itself for its people and does not use its people as human shields to protect its soldiers. The fighter, just the like the soldier in the army, his job is to protect the people, and not to sacrifice the people for himself,"- said Meshaal.
Tensions high throughout Israel
Police in Jerusalem say they foiled a terror attack when they shot and killed the driver of an earthmover, who had overturned a passenger bus.
"A 25-year-old man was killed and five people were injured, one seriously," according to an Israeli police spokesman.
Footage broadcast by Israel's Channel 10 showed the earthmover still moving as security forces approached. It appeared to show shots being fired.
The incident happened in the Sheikh Jarrah area of central Jerusalem, near the entrance to a Jewish orthodox neighborhood.
International condemnation of Israel and Hamas
France is the latest country to condemn the Gaza operation and strikes on U.N.-run shelters in Gaza.
"How many deaths will it take to stop what has to be called the carnage in Gaza?" French Foreign Minister Laurent Fabius asked in a statement. He said while Israel has a right to total security, "this right does not justify the killing of children and the slaughter of civilians." He also said Hamas carries an overwhelming responsibility in this "macabre gearing which particularly serves extremism."
On Sunday, the United States and the United Nations used the strongest language yet in condemning the strike on a U.N.-run shelter in Gaza, with Washington calling the attack "disgraceful."
At least nine people at the school, which was being used as a shelter for about 3,000 people, were killed in the shelling.
Israel said it is carefully reviewing the attack.
"No ordinance fell inside the school" Netanyahu spokesman Regev told CNN. "What happened yesterday we're reviewing very carefully."
The IDF said it targeted three Palestinian Islamic Jihad members riding a motorcycle in the vicinity of the school, but didn't say if the suspected militants were hit.
U.N. Secretary-General Ban Ki-moon said in a written statement that the attack was "yet another gross violation of international humanitarian law."
He demanded a swift investigation into the attack, in which there was an explosion just outside the main gate of the school. He called it a "moral outrage and a criminal act."
The United States, in a statement issued by the State Department, said it was "appalled."
"We once again stress that Israel must do more to meet its own standards and avoid civilian casualties," spokeswoman Jen Psaki said in a written statement. "The suspicion that militants are operating nearby does not justify strikes that put at risk the lives of so many innocent civilians."
August 4 2014, 17:55