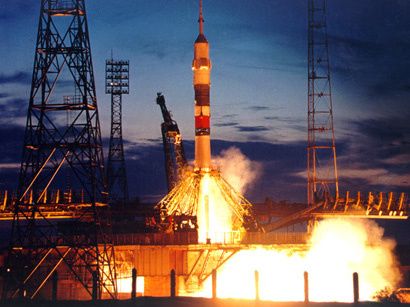 Rocket launch at Baikonur. Photo courtesy: TrendRussian Finance Ministry plans to stop funding Baikonur Cosmodrome located in Kazakhstan as of 2016, Russian Izvestia newspaper reported on August 1.

The financing of space industry in the draft federal budget for 2016-2018 sharply decreased in the last two weeks, a source in the Russian Federal Space Agency told Izvestia.

Russian Center for Operation of Space Ground-Based Infrastructure which operates the cosmodrome confirmed the information about the problems in budget plans concerning Baikonur.

In the previous versions of the draft budget the subsidies for Baikonur maintenance in 2016 were planned at 2.5 billion rubles, Sergey Lazarev, CEO of the Center for Operation of Space Ground-Based Infrastructure said. The last draft budget envisages zero subsidies.

"In fact, this means the termination of funding entire groups of specialists at our main spaceport," he said.

The Finance Ministry said that all the investments planned for Baikonur will be directed to Vostochny Cosmodrome which is under construction on Russian territory, Lazarev said.

The Baikonur Cosmodrome is the world's first and largest operational space launch facility. It is located in the desert steppe of Kazakhstan. It is leased by the Kazakh government to Russia (currently until 2050). Under the current Russian space program, Baikonur remains a busy space port, with numerous commercial, military and scientific missions being launched annually.

Vostochny Cosmodrome is planned to be launched in 2015 in the Russian Far East.
Source: Trend
August 1 2014, 15:54