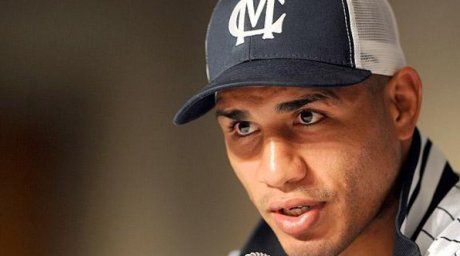 Miguel Cotto. Photo courtesy of boi.tvWBC middleweight champion Miguel Cotto's promoter Bob Arum considers the Golovkin-Cotto fight less attractive than a fight against Canelo Alvarez, Tengrinews reports citing Vesti.kz.

According to Cotto's adviser Gabriel Penagaricano, the unification fight against Golovkin is of no interest to them, as the Kazakhstani fighter has yet to earn his name. Moreover, Golovkin has not had a PPV fight yet.
"Certainly, it's up to Miguel who he wants to fight but I think the Canelo (Alvarez) fight is a much more attractive fight. Even though I love Golovkin and (K2 Promotions managing director) Tom Loeffler - and nobody can say that Golovkin isn't a great fighter - it's risk-reward in boxing. We don't know about Golovkin's ability on pay-per-view," Top Rank's Bob Arum told ESPN.com
According to HBO, the Golovkin-Geale fight had from 984 thousand to a little over 1 million viewers, which is even lower than Golovkin's fight against Curtis Stevens in 2013 (1.4 million viewers).
In the meanwhile, Golovkin's promoter Tom Loeffler vests great hopes into the fight against Cotto. "I think that's an electric fight at Madison Square Garden. (MSG) has such a tremendous history. It's clearly the biggest fight that can be put in New York right now. We would be happy to have it here in the Garden. Again, Cotto would be the A-side in the fight so we would let him dictate the terms and Top Rank. But that would be a fight that I know a lot of fans and a lot of media would like to see," Loeffler told BoxingScene.com.
Cotto's next fight is scheduled to December 13 at MSG. According to Arum, they are not considering Alvarez as Cotto's opponent in Winter, though they might have a fight sometime in Spring

Source: Tengrinews.kz
August 1 2014, 15:44