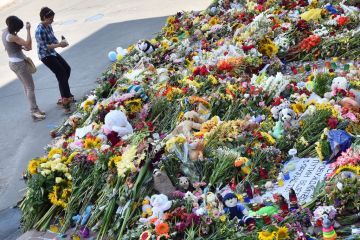 Women set candles during a flowers laying ceremony at the Netherlands embassy in Kyiv on July 21, 2014. (AFP)A train carrying the remains of most of the almost 300 victims of the Malaysia Airlines plane downed over Ukraine left the site on Monday, after the Malaysian Prime Minister reached a deal with the leader of pro-Russian separatists controlling the area, globalpost.com reports.
The aircraft's black boxes, which could hold information about the crash in rebel-held eastern Ukraine but will not pinpoint who did it, would be given to the Malaysian authorities, Prime Minister Najib Razak said, indicating he had bypassed Kyiv, which has lost control of much of the east.
The expected handover of the bodies and the black boxes, and reports by international investigators of improved access to the wreckage of the airliner four days after it was shot down, takes place against calls for broader sanctions against Russia for its support for the rebellion, though Western leaders are struggling to agree a united response.
Dutch Prime Minister Mark Rutte told a news conference that a train carrying around 200 body bags was on its way to rebel-held Donetsk and then to Kharkiv, which is in Ukrainian government hands, from where the bodies would be taken back to the Netherlands to be identified.
Russia's Defense Ministry on Monday challenged Western and Ukrainian accusations that pro-Russian separatists were responsible for shooting down a Malaysian airliner and said Ukrainian warplanes had flown close to the aircraft, reuter reported.
The ministry also rejected accusations that Russia had supplied the separatist rebels in east Ukraine with SA-11 Buk anti-aircraft missile systems, known as "Gadfly" in NATO, "or any other weapons."
The Dutch public prosecutor's office said Monday it had opened a preliminary criminal probe into the downing of flight MH17 over rebel-held Ukraine, which left 298 people dead, most of them Dutch.
"An officer from the prosecutor's office, Thijs Berger, is in Kyiv at the moment," spokesman Wim de Bruin told AFP.
Under Dutch law, the Netherlands can prosecute war crimes suspects, even for alleged crimes committed abroad, if one or more victims is Dutch.
There were 193 Dutch citizens on the doomed plane, which is believed to have been brought down by a missile fired by pro-Russian separatists.
Rebels have been accused of hindering access to the crash site and bodies since the plane came down on Thursday.
The prosecutor's office could not say what Berger would do in Ukraine as part of the probe.
Britain warned Kremlin chief Vladimir Putin on Monday that the Russian economy would face sectoral sanctions unless Moscow granted full access to the Malaysia Airlines crash site and stopped stoking instability in Ukraine.
Britain says a Russian missile fired from Ukrainian territory controlled by Russian-backed rebels probably shot down Malaysia Airlines flight MH17 with the loss of 298 lives including 10 British nationals.
"We should be discussing going further, sectoral measures, tier three," a spokesman for British Prime Minister David Cameron told reporters.
"If Russia does not, in the coming period, take steps both in terms of the immediate response to the crash but also the very directly related issues around instability in eastern Ukraine, then we will be arguing that we have to go further."
Britain will argue hard at a European Union meeting of foreign ministers on Tuesday for further action on sanctions against Russia, the British premier's spokesman said.
The spokesman said Britain was also pushing for the immediate implementation of sanctions on Russian individuals and entities agreed by the EU last week.
July 22 2014, 16:37