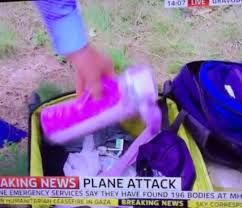 Sky News has been forced to issue an apology after broadcasting one of their top reporters fossicking through the luggage of MH17 passengers.
The broadcaster has been widely condemned on social media with many calling it a "new low for journalism" and "insensitive".
Reporting from the crash scene in eastern Ukraine, Colin Brazier was seen going into one of the many suitcases littering the field of debris where the Malaysia Airlines plane was shot down and all 298 lives were lost.
He then picked up and surveyed items one by one - before censoring himself, saying: "We shouldn't really be doing this I suppose".
The broadcast sparked outrage on Twitter, with viewers sharing a clip of it hundreds of times.
The Daily Mail reported that a spokesperson for Sky News said: "Today whilst presenting from the site of the MH17 air crash Colin Brazier reflected on the human tragedy of the event and showed audiences the content of one of the victims' bags.
"Colin immediately recognised that this was inappropriate and said so on air. Both Colin and Sky News apologise profusely for any offence caused."
The broadcast received "a handful" of complaints from viewers, the spokesperson added.
The bodies of the 298 victims who died in the crash have been moved into a refrigerated train which is doubling as a morgue.
Use of the Tengrinews English materials must be accompanied by a hyperlink to en.Tengrinews.kz
July 21 2014, 12:28