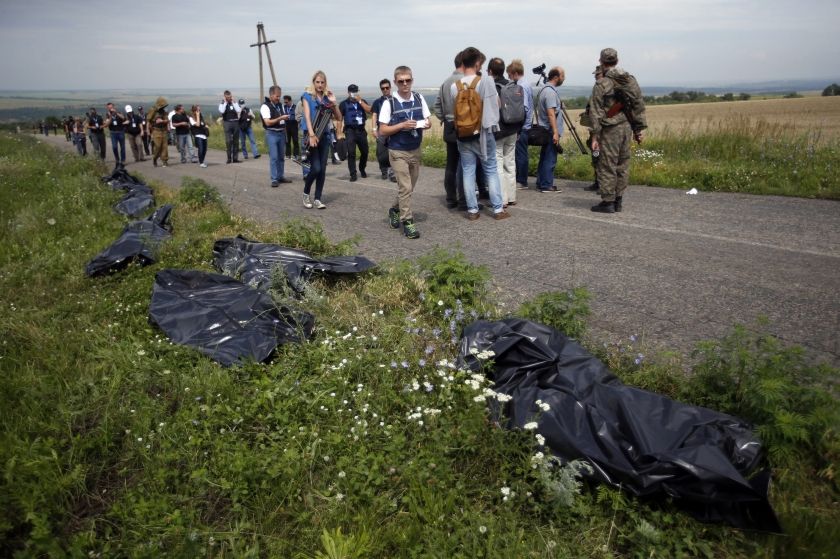 Organisation for Security and Cooperation in Europe (OSCE) monitors walk at the crash site of Malaysia Airlines Flight MH17, near the settlement of Grabovo in the Donetsk region July 20, 2014. ― Reuters pic The US government pressed Russia to fulfil its promise today to help provide access to the Ukrainian crash site of Flight MH17, saying the Kremlin-backed rebels had limited the time international security monitors spent in the area, themalaymailonline.com reports.
According to the US Department of State, the Organization for Security and Co-operation in Europe (OSCE) monitors were only allowed entry into the rebel-held area in Ukraine's restive east for less than three hours yesterday (Saturday), and just 75 minutes on Friday.
"Thus far, the separatists have only allowed monitors to have limited access to a small area. The site is not secure, and there are multiple reports of bodies being removed, parts of the plane and other debris being hauled away, and potential evidence tampered with.
"This is unacceptable and an affront to all those who lost loved ones and to the dignity the victims deserve," said Jen Psaki, a spokesman for the department.
Psaki said it was vital for a full, credible and unimpeded international investigation to completed as quickly as possible.
"Russia-backed separatists committed Thursday to allowing full access to international observers and response teams and Russia supported an OSCE statement calling for the same.
"We urge Russia to honor its commitments and to publicly call on the separatists to do the same," added Psaki.
On Friday, pro-Russian separatists said they welcomed international and Ukrainian experts coming to the site of the downed Malaysian airliner, denying government reports they were preventing a search and rescue mission.
OSCE, a security and rights body, later said about 30 of its staff had arrived at the scene by helicopter.
However, tensions mounted over the crash site today as investigators struggled to return to the crash site.I
Other governments worldwide have also expressed anger at the chaos on the ground.
- See more at: http://www.themalaymailonline.com/malaysia/article/observers-got-under-3-hours-at-mh17-crash-site-us-claims#sthash.KkRiQIo6.dpuf
July 21 2014, 11:41