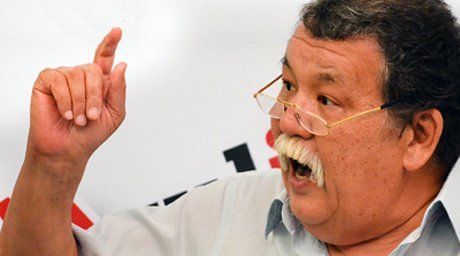 Chelakh's lawyer Serik Sarsenov Kazakh border guard Vladislav Chelakh, suspected of killing 15 people at the Arkankergen temporary border post and incriminated with nine articles of the RoK penal code refused jury, said his lawyer Serik Sarsenov.

According to Sarsenov, the court can not reject Chelakh's decision. He also said Chelakh's petition to recognize his surrender may be rejected, as the judge found it was taken into account within the boundaries of law.
Prosecutors saw no grounds to extend investigation, a request the lawyer had indicated in the petition.
Lawyer Sarsenov prepared two petitions for the first hearings on Chelakh's case that took place on November 12 in Taldykorgan city of Almaty Oblast.
In the first one, he requested the court to cancel the decision that recognizes the border guard as the accused, to conduct another investigation and issue a separate decision on legal violations that took place during preliminary investigation and the process of putting Chelakh to trial.
In the second document, Sarsenov requested court to find Chelakh's surrender legally invalid and unacceptable as an evidence within the case.
As a whole, Sarsenov expressed doubts that trial would end lawfully. He again emphasized that he recommends Chelakh to keep refusing court of jury. Nevertheless, the lawyer is sure his client will face a guilty verdict anyway.

Chelakh refused the second lawyer, who had been appointed for him in late October. The court is rightful to reject such a request. Sarsenov is sure the court will do so.

The lawyer said that at the preliminary hearing the indictment side called him a showman.

According to him, prosecutors were resented with the lawyer's mentioning specific persons, in particular, the military prosecutor who, in Sarsenov's opinion, is not taking any measures to eliminate legal violations emerged in the course of investigation and preparation for trial.

"If prosecutor says I am a showman, then the show will go on" the lawyer concluded.

Previously Sarsenov stated there were serious controversies between the evidence given by the accused and the results of expert examination. He added that Chelakh was ready for life sentence.
As is known, Vladislav Chelakh is being accused as per nine articles including "assassination of two or more persons", "stealing of personal belongings", "stealing of secret documents", "stealing a weapon", "illegal possession of a weapon", "damaging military property", "desertion" and "illegal penetration into someone other's home".

WKT citing tengrinews.kz
November 12 2012, 14:24