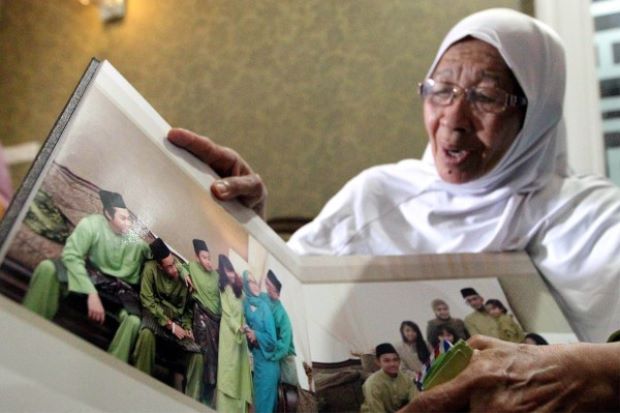 Jamillah showing the family photo album at her home. Pix by Zulazhar Sheblee/The StarAn entire family from Kuching - who were on their way back from Kazakhstan transiting via Amsterdam - perished on board the ill-fated Flight MH17.

Tambi Jiee, 49, from Kampung Gobielt, was with his wife Ariza Ghazalee, 47, and four children - Mohd Afif, 19, Mohd Afzal, 17, Marsha Azmeena, 15, and Mohd Afruz, 13.
The family was returning from Kazakhstan, where Tambi, a Shell employee, had been working for about three years.
Their eldest son was a student at Taylor's College in Kuala Lumpur while the three other children were studying in Kazakhstan.

The family was coming back to Malaysia for good.
A picture of the family's packed bags before their ill-fated trip. Picture taken from Ariza's Facebook.
Tambi had been transferred to Shell's Malaysia headquarters in Kuala Lumpur and before reporting to work in the nation's capital, he was coming home to celebrate Hari Raya, according to Ariza's mother Jamillah Noriah Abg Anuar on Friday.

The distraught 72-year-old told reporters that she learnt of the tragedy at 1.30am when she was woken up by family members.
"I was asleep. I received a call from my children, saying they were outside my house," Jamillah recounted. "They told me. I cried. What can I do?"

Jamillah had spoken to Tambi and his family only hours ago before they perished. "They called me from Amsterdam. It was a normal conversation."

She said she was excited about their scheduled arrival at the Kuching International Airport at 2pm on Friday.
"They come back to Kuching three to four times a year when they can. Usually, they'll stay in Kuala Lumpur for a few days. This time, they were coming back to Kuching straight away," she said.

Ariza took early retirement to accompany her husband to Kazakhstan.
An engineer by training, she was an employee of the Bintulu Development Authority, according to family members.
Ariza was also an avid social media user. Prior to boarding MH17, she uploaded photos of their packed bags on Facebook and Twitter.
July 18 2014, 17:37