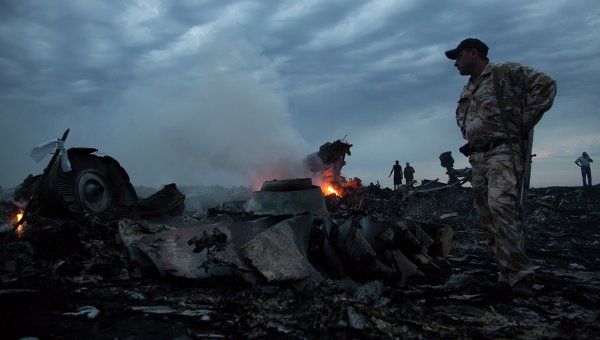 Debris of Malaysia Airlines Boeing 777 in Donetsk RegionRescue workers have recovered the second black box from the Malaysian Airlines passenger airplane that crashed in eastern Ukraine, Reuters reported citing an eyewitness Friday, ria.ru reports.
Earlier a spokesman from the Vostok Battalion said that they had found several objects that could be black boxes near the town of Torez where the aircraft crashed.
A Malaysia Airlines Boeing-777 flying from Amsterdam to Kuala Lumpur crashed near the town of Torez in the Donetsk Region on Thursday. There were 283 passengers and 15 crew members on board, none of them survived.
Ukrainian President Petro Poroshenko said earlier on Friday one flight recorder from the plane had allegedly been found by local militia who might take it to Russia in an attempt to "hide all traces."
Kiev blamed independence supporters in the turbulent Donetsk region for downing the passenger plane with a surface-to-air missile. Militia forces said they had no missile systems that could hit a target flying at an altitude of 10,000 meters.
Ukraine has repeatedly accused Russia of supplying arms to resistance forces in the east of Ukraine, although there has been no evidence to this effect.
Ukrainian authorities and Malaysia Airlines are investigating the incident.
July 18 2014, 12:11