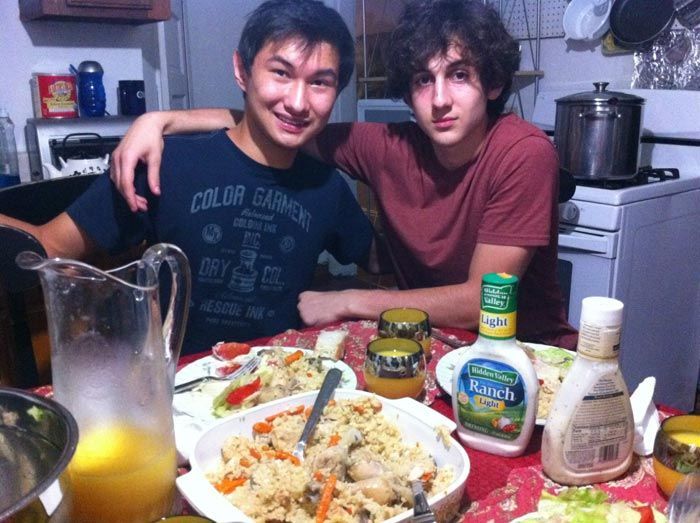 Azamat Tazhayakov and Dzhokhar TsarnaevU.S. prosecutors argued that a friend of Boston Marathon bombing suspect Dzhokhar Tsarnaev wanted to help Tsarnaev when he took evidence from his dorm room, while a defense attorney described him as a college kid who did not understand what he was doing, reuters reports.
Kazakh exchange student Azamat Tazhayakov is the first of three friends of Tsarnaev charged with going to his room three days after the April 15, 2013, attack that killed three people and injured 264 and removing a laptop computer and backpack containing empty fireworks shells.
The visit occurred hours after the FBI released photos of Tsarnaev and his older brother at the site of the bombing and asked for the public's help in learning their identities, Assistant U.S. Attorney John Capin said in closing arguments at U.S. District Court in Boston.
"By the time the FBI searched the Tsarnaev dorm room, which was one of the first things they did when they identified Mr. Tsarnaev as a suspect in this investigation, it was too late," Capin said. "Why did he do these things? He did these things to protect his friend, Dzhokhar Tsarnaev."
Tazhayakov, now 20, and his roommate, Dias Kadyrbayev, decided later that night to throw away the backpack after growing concerned that their friend Tsarnaev was a suspect in the investigation, contend prosecutors, who charged them with obstruction of justice and conspiracy.
But defense attorneys on Wednesday said Kadyrbayev had taken the items and portrayed Tazhayakov as not understanding the consequences of his actions.
"The reality is college kids think differently," said defense attorney Matthew Myers. "I'm not minimizing what happened in this town in the least bit but when you're talking about college kids, you're talking about a different mindset."
He noted that Kadyrbayev, Tazhayakov and Robel Phillipos of Cambridge, Massachusetts, also found the white baseball cap Tsarnaev was wearing in photos released by the FBI but left it in the room. If the men had intended to obstruct justice they would have taken it, he said.
During six days of trial testimony, jurors heard FBI agents testify that Tazhayakov admitted taking the backpack and later watching as a garbage truck hauled away the contents of a dumpster where it had been dropped. The backpack and its contents were recovered a few days later.
They also saw a videotaped deposition of Kadyrbayev's girlfriend, who has not been charged, in which she said she told Kadyrbayev to "get it out" of his apartment in New Bedford, Massachusetts, about 50 miles (80 km) south of Boston.
Jurors concluded their first day of deliberations on Wednesday without reaching a verdict.
Tazhayakov could face up to 25 years in prison if convicted of obstruction of justice and conspiracy. Kadyrbayev is awaiting trial on the same charges later this year.
Phillipos is accused of the lesser charge of lying to investigators.
The three men are not charged with any role in the bombing.
Tsarnaev is awaiting trial on charges that carry the death penalty.
July 17 2014, 10:13