rt.com. "Yellowstone supervolcano 'turned the asphalt into soup' shutting down Natl. Park's roads" - Extreme heat from a massive supervolcano underneath Yellowstone National Park is melting a major roadway at the popular summertime tourist attraction. Park officials have closed the area to visitors.
ria.ru. "Moscow Blasts Visa Denial for Russian Delegation to Farnborough, Vows Retaliation" -
Moscow views the UK's visa denial to members of the Russian delegation to the Farnborough International Airshow as an unfriendly act and reserves the right to an adequate response, a Russian Foreign Ministry official said Monday.
euronews.com. "Riots in the West Bank over Israeli offensive against Hamas" - There have been clashes between Palestinian youths and Israeli military late into Monday night in the West Bank town of Bethlehem. Protesters threw stones and fireworks in anger at the continued Israeli offensive against Hamas militants in Gaza.
bbc.com. "Two Moscow metro workers arrested after disaster" - Russian investigators have announced the arrest of two Moscow metro workers for safety breaches after a train derailed, killing 21 people. The railway foreman and his assistant are suspected of using inadequate wiring during works on the line in May, the Investigative Committee said.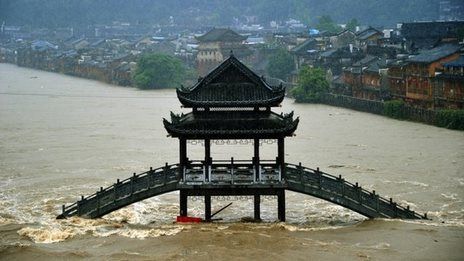 "China floods: Ancient town of Fenghuang submerged in water" - The ancient Chinese town of Fenghuang has been submerged in water after severe storms battered the region. More than 50,000 people have been forced to leave their homes amid power cuts and flooding. Fenghuang is more than 300 years old and is currently being considered for UNESCO World Heritage Status.
'Abused children' rescued in Mexico" - Mexican police have rescued more than 450 children they believe were abused at a children's home in Zamora in the western state of Michoacan. They were allegedly subject to sexual abuse and forced to beg on the streets. The owner, Rosa del Carmen Verduzco, and eight employees at the House of the Big Family have been arrested. Correspondents say it is one of Mexico's worst incidents of alleged child abuse at a children's institution in many years.
July 16 2014, 02:32