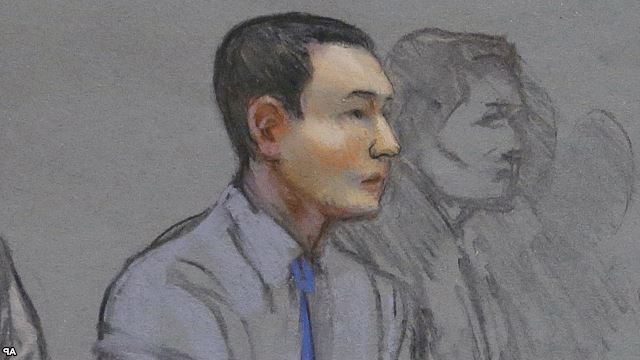 In this file courtroom sketch, defendant Azamat Tazhayakov, a college friend of Boston Marathon bombing suspect Dzhokhar Tsarnaev, sat during a hearing in federal court in Boston.About a month before the Boston Marathon bombings, Dzhokhar Tsarnaev told two college friends over dinner that "it was good to die like a martyr" and that he knew how to make homemade bombs with gunpowder, prosecutors said Monday, bostonglobe.com reports.
On April 15, 2013, Tsarnaev sent a text message to one of the two friends about an hour after two deadly pressure-cooker bombs exploded near the Marathon finish line.
"Don't go thinking it's me, you cooked bastard," Tsarnaev, at the time a little-known student at the University of Massachusetts Dartmouth, wrote to his friend Azamat Tazhayakov.
But prosecutors say Tazhayakov had plenty of reason to suspect that his friend Tsarnaev had played a role in the bombings, especially after the FBI broadcast photos of the two suspects about 5 p.m. on April 18.
Tazhayakov, a 20-year-old native of Kazakhstan, is one of three of Tsarnaev's friends from UMass Dartmouth who are accused of interfering with the bombing investigation.
In her opening statement Monday in Tazhayakov's trial, Assistant US Attorney Stephanie Siegmann laid out a detailed timeline of what Tazhayakov allegedly knew and when, including a message between Tazhayakov and a friend early April 19 that refers to the bombing suspects as "brothers" hours before authorities released their identities. That suggests the friends had reason to suspect Tsarnaev and his older brother were involved.
Tazhayakov and Dias Kadyrbayev, who is also a former UMass Dartmouth student from the central Asian nation of Kazazkhstan, are accused of going to Tsarnaev's dorm room the night of April 18 and seizing and discarding Tsarnaev's backpack, which contained manipulated fireworks. A third friend, Robel Phillipos, is accused of the less-serious charge of lying to investigators about his whereabouts that night.
Each of the three friends will face separate trials. Tazhayakov's trial before US District Court Judge Douglas Woodlock is the first.
The prosecutors have portrayed Tazhayakov and Kadyrbayev as hard-partying students of wealthy overseas families whose reaction to the bombings was "to protect their close friend Dzhokhar Tsarnaev" and not to help law enforcement identify and stop the suspects.
While Siegmann's opening statement was packed with dispassionately delivered facts and dates, Tazhayakov's defense attorney cautioned jurors not to let the government sway them with emotions about this singular tragedy that killed three people and injured 260 others.
"It's not about the bombing," said defense lawyer Nicholas Wooldridge. ". . . Don't get sidetracked. Stay clear and focused on the real evidence in this case."
In Wooldridge's opening statement, he provided a blueprint of the defense case, portraying his client as virtually passive the night of April 18 and shifting blame to Kadyrbayev.
Among the handful of witnesses who took the stand Monday was a former UMass Dartmouth classmate, Tiffany Evora, who said Tazhayakov was often seen as the "good kid" or "mama's boy" among their friends.
Tazhayakov's defense attorney said that while his client leisurely watched movies or played video games the night of April 18, Kadyrbayev took the initiative that night to remove Tsarnaev's backpack and laptop from the dorm room and later discard the backpack in a dumpster.
The laptop was kept at the off-campus New Bedford apartment that Tazhaykov and Kadyrbayev shared. Both the backpack and laptop were recovered by the FBI.
Wooldridge said his client was only told by Kadyrbayev after the fact that the backpack had been thrown away.
Wooldridge added, however, that Kadyrbayev's main motivation to go to Tsarnaev's room that night was to take a bag of marijuana and suggested that the laptop and backpack were incidentally removed.
He said that Tsarnaev sent a text to Kadyrbayev the night of April 18, suggesting he was free to take what he wanted from his room, and that the sentence included a smiley-face symbol. He said this was not a veiled way of asking for the removal of incriminating items, but a way of offering them free marijuana. Wooldridge said the smiley-face symbol is a code for marijuana.
He pointed out that if the two friends were so intent on hiding evidence from the FBI, they would have taken Tsarnaev's white hat, which he allegedly wore the day of the bombings and was still on his dorm bed the night of April 18, Wooldridge said.
Wooldridge said that when his client was questioned by the FBI the following day, he cooperated fully, signing all kinds of forms to authorize searches of his cellphone, laptop, apartment, and car.
"He's the opposite of someone trying to obstruct justice," he told jurors.
But prosecutors said that Tazhayakov was aware that Tsarnaev was a suspect in the bombings. Siegmann said that the government's review of communications between Tazhayakov and Kadyrbayev shows that they had already identified Tsarnaev as one of the bombers. About 2:50 a.m. on April 19, one of them refers to one of the "brothers" having died in a shootout with police.
At that time, the FBI had not publicly released the names or the relationship between the two bombing suspects. It was not until about 6:50 a.m. on April 19 that the names of the Tsarnaev brothers were made public.
Tazhayakov and Kadyrbayev, who are cellmates in an Essex County jail, face a maximum 20-year prison term if convicted. Phillipos, of Cambridge, faces a maximum eight-year sentence.
Aside from the deaths and injuries at the Marathon, the brothers also allegedly, while on the run on April 18 after authorities released their photos, killed MIT police Officer Sean Collier.
Tamerlan Tsarnaev later died in a shootout with police in Watertown; his younger brother escaped and was a fugitive for much of the day April 19 until he was found in a boat stored in the backyard of a nearby house.
He is scheduled to face trial in November and prosecutors are seeking the death penalty against him.
July 11 2014, 18:36