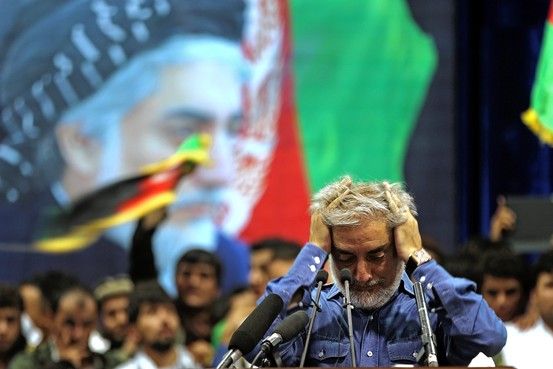 Afghan presidential candidate Abdullah Abdullah, in Kabul Tuesday, says he will decide within a few days whether to form his own administration. Associated PressAfghan presidential candidate Abdullah Abdullah claimed victory in defiance of preliminary vote results showing he lost and considered forming his own government, despite U.S. warnings that the country risked losing financial and security aid, wsj.com reports.
"There is no doubt we are the winners of this election," Mr. Abdullah told supporters during a boisterous rally in Kabul. "We will not allow a fraudulent government for a day."
Before the rally, President Barack Obama called Mr. Abdullah and urged him to await a probe of ballot-stuffing allegations, telling him that "there is no justification for resorting to violent or extra-constitutional measures," said White House spokeswoman Caitlin Hayden. "We've been clear that any such move would cost Afghanistan the financial and security assistance of the United States," she added.
Mr. Abdullah said he would decide within a few days whether to form his own administration, a statement his supporters jeered because they wanted him to say he was taking power immediately.
The deepening election dispute over who will replace President Hamid Karzai has already raised the specter of territorial fragmentation.
One of Mr. Abdullah's closest allies, former warlord and Balkh province Gov. Atta Mohammad Noor, declared he would only recognize an Abdullah-led government in his northern province.
"From now on I declare a legitimate government under Dr. Abdullah Abdullah and I am obliged to obey him," said Gov. Atta.
The presidential election was supposed to mark Afghanistan's transition to full-fledged sovereignty as U.S. and international troops depart the country at the end of this year. But so far, it has proved to be dangerously destabilizing, raising fears of a return to civil war. The crisis comes as the Taliban insurgency advances, Afghanistan's economy stalls and international aid shrinks.
The campaign team of Mr. Abdullah's rival, Ashraf Ghani, rejected allegations that large-scale fraud happened on its behalf.
Mr. Abdullah's strategy imperiled support from the U.S., which has invested hundreds of billions of dollars in a military and civilian campaign to bring stability to Afghanistan. The Obama administration is stepping up its efforts to broker a compromise by sending Secretary of State John Kerry to Kabul later this week, a U.S. official said.
Mr. Abdullah said he wouldn't compromise with Mr. Ghani, who edged closer to becoming Afghanistan's next president after election officials on Monday said he had won 56.4% of the vote to Mr. Abdullah's 43.6% in a preliminary count of the June 14 runoff. The authorities stopped short of declaring a winner as millions of votes could still be reviewed for fraud allegations.
Mr. Karzai, in his first public statement on the election dispute, on Tuesday urged both candidates to respect the authority of the election commissions.
Both Afghan candidates have indicated that they would sign a security pact with the U.S. if they become president to continue an American troop presence in the country after this year, and the Obama administration doesn't want the process to fall apart at the last minute, as it did in Iraq.
Still, the administration doesn't want to sign a pact with a president who takes office through a discredited process.
"It is a fact that the international community is not going to be able to support an Afghanistan divided against itself," the U.S. official said. "The bottom line is that national unity is in the interest of Afghanistan."
Mr. Obama also called Mr. Ghani to urge calm and the need for political dialogue, the White House said.
July 9 2014, 09:22