By Zulfiya Iskalieva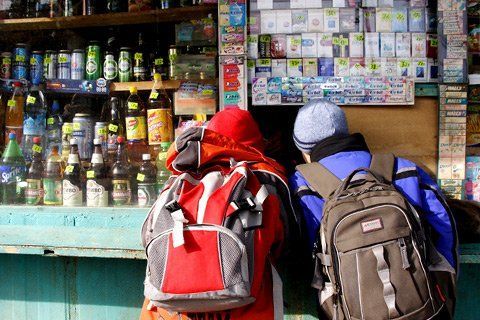 As of July 12, the ban on alcohol sale in the shops located within 100 meters from kindergartens and educational establishments will be lifted.
- With the shortage of land in Atyrau this norm was a big issue for the business people, - said Nina Temirbayeva, the Director of the Union of Businessmen and Employers of Atyrau Oblast.
The Unions of businessmen in different regions repeatedly raised this issue at various meetings, and wrote letters to the Ministry of Finance as well as to local government agencies. The fight between businesses and government bodies for cancellation of "100 meter" norm lasted 5 years.
According to businessmen, this was an obviously corruption norm: many were compelled to pay bribes to the inspecting officers so that they "closed their eyes" to the fact that the distance between a shop and a school is, say, not 100 meters, but 99 meters. Besides, in such situations there were lots of disputes: from what point should it be measured and, consequently, up to what point, and what to do if a kindergarten has been built after a shop was opened, etc.
So, since July 12, due to enforcement of the law "On changes and additions to some RoK legislative acts, concerning state regulation of production and a turnover of ethyl alcohol and alcoholic products", this ban loses its force.
Instead, the time for sale of alcohol is reduced. It is banned to sale alcohol from 21.00hrs till 12.00hrs of the next day. This applies to alcoholic beverages with a proof over 30 degrees. For low alcohol beverages the restriction remains the same - from 23.00 till 8.00 in the morning. The ban is not extended to restaurants and cafes. Also, the responsibility for sale of alcoholic products to persons under the age of 21 is strengthened: instead of 5 MCI (monthly calculation indicator) and suspension of a license, now the violator should pay 10 MCI and his/her license will be suspended.
July 8 2014, 13:21