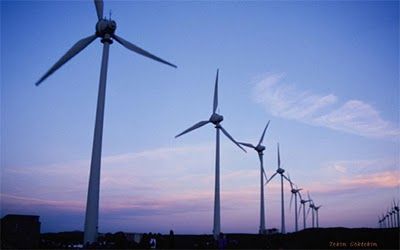 100 wind turbines will be constructed near Astana by 2017, this has been reported to Kazakh President by the chairman of "Central Asian fuel and energy company" Alexander Klebanov, inform.kz reports.
"We want to construct about 100 wind turbines with a total capacity of 100 megawatts, which will contribute to the unique look of the capital", said Alexander Klebanov during Nazarbayev's visit to the construction site of Expo town.
According to him, energy research center will be established in the Expo town. It will combine three environmentally friendly plants including the plant for collection of solid waste, collection of rain and sewage water and the plant on electricity generation from solar panels located on the territory of more than 25 hectares.
He stressed that the garbage collection system will cover 174 hectares. Plant for collection and cleaning of rain and sewage water will process about 750 cubic meters of water per day.
"Moreover, the whole area of 25 hectares will be covered with a solar 'blanket'. Energy will go to a single control point which will collect and distribute it. Extra energy will be sold", concluded A. Klebanov.
July 4 2014, 17:34