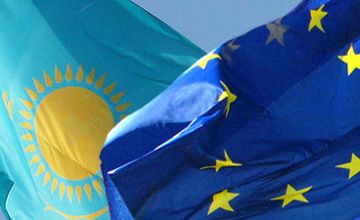 Kazakhstan and the European Union have reached agreement on the contents of enhanced Partnership and Cooperation Agreement, inform.kz reports.
"The parties came to agreement on the formulations of all parts of the Agreement, including political, legal, trade, economic, humanitarian and sectoral cooperation," the Kazakhstani Foreign Ministry says.
"The delegations consented to hold the final round of talks in Astana in the summer 2014 in order to initial the draft agreement at the level of chief negotiators and prepare it for initialling at the political level till the yearend," it says.
The new agreement is designed to considerably extend and renovate the existing document, signed in 195. "The new agreement will give broader framework for strengthening the political dialogue and cooperation in the fields of justice and security, further developing mutual trade and investment, deepening economic and humanitarian contacts, relations in innovation and creates new possibilities for business cooperation," the ministry says.
In recent years the EU is Kazakhstan's leading trade and investment partner, Itar-Tass reports.
In 2013 trade turnover reached $53.4 billion. In January-April 2014 it amounted to $19 billion, the ministry says.
July 4 2014, 10:15