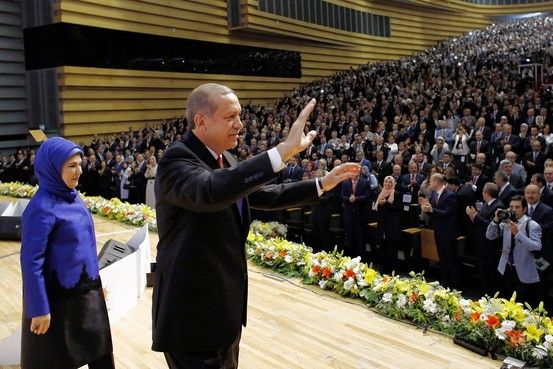 Prime Minister Recep Tayyip Erdogan, center, with his wife, Emine, announces his presidential bid before party members in Ankara on Tuesday. (AFP)After months of speculation, Prime Minister Recep Tayyip Erdogan revealed Turkey's worst-kept political secret: He will run in the country's first direct presidential elections next month in a bid to expand his powers and enable him to govern for another decade, wsj.com reports.
In power for 12 years, with his popularity seemingly unscathed by a year of sporadic antigovernment protests and a corruption scandal, Mr. Erdogan is considered to be Turkey's most transformative political leader since the modern republic's founder, Mustafa Kemal Ataturk. Barred by party rules from running for prime minister again, Mr. Erdogan's widely expected ascension to the presidency in the country's first popular ballot for that role could shift the nature of political power in Turkey, a U.S. ally and North Atlantic Treaty Organization member.
The Turkish presidency has for decades been a largely ceremonial post, but Mr. Erdogan has often stated his desire to revive the office's dormant executive powers to convene cabinet meetings and represent what he calls "the national will." His supporters say the move will enfranchise ordinary voters, while critics say it will lead to greater authoritarianism and centralization of power around Mr. Erdogan, who has exerted tight control over the armed forces, judiciary and police.
The premier cast Tuesday's announcement in Ankara—delivered in a slick campaign launch in front of cabinet officials and 4,000 party members—as the final victory over "military tutelage," a reference to the sway the country's military-secular elite once held over the pious Muslims Mr. Erdogan represents.
"With the direct election of the president by the people, the position of the president will be elevated to and regain its original strength to secure the unity of the state and the people," Mr. Erdogan said in an emotional speech following a 20-minute biographical video shown live on many television channels. "The new president will make Turkey fly in every sense."
Mr. Erdogan's formal acceptance of the nomination as the candidate from the ruling Justice and Development Party, or AKP—widely signaled in recent weeks by senior cabinet ministers—marks the start of a race culminating at the polls on Aug. 10. Underscoring deep political divisions, the leader of Turkey's opposition secularist party, Kemal Kilicdaroglu, responded to Mr. Erdogan's announcement by calling him "a liar" and warning that his ascension to the presidency would be a "disaster" for the country.
Soli Ozel, a professor of international relations at Istanbul's Kadir Hass University, said an Erdogan victory would likely herald "an imperious presidency" that would continue to regear Turkish institutions around the premier's conservative religious vision.
"This pomp of the nomination speaks to how confident both Erdogan and his party are of victory," Mr. Ozel said. "Erdogan has a transformative vision and if he wins he will try to change the republic in his image. The only question is whether he will succeed."
After his successes taming Turkey's once-dominant military, reshaping the judiciary and subjugating the press, many see an Erdogan victory as inevitable. Mr. Erdogan's success in undercutting Turkey's secular shibboleths is evident from the secular and nationalist opposition's choice to oppose him: Ekmeleddin Ihsanoglu, a diplomat and academic who was at the helm of the Organization of Islamic Cooperation for nine years until 2014. Few analysts give either Mr. Ihsanoglu or Selahattin Demirtas, the candidate for the pro-Kurdish parties, a chance of beating Mr. Erdogan, who pollsters say has around 55% support nationwide, indicating he would capture the presidency in the first round of voting.
The prospect of moving from the prime ministry to the presidency while remaining paramount leader has evoked comparisons to Russia's President Vladimir Putin, who has occupied both positions in the 15 years he has governed Russia.
Like the populist Mr. Putin, Mr. Erdogan has an enviable track record at the ballot box. Since his AKP swept to power in 2003, Mr. Erdogan has transformed it into the world's most electorally successful Islamist-rooted political force. Underpinned by a decade of remarkable economic growth, he has won six consecutive elections at the local and national level, maintaining a solid base of support among Turkey's working-class and conservative Muslims, many of whom had felt like second-class citizens under previous secular administrations.
But as he closes in on the role, some analysts have cautioned that Mr. Erdogan's maneuvering could also leave him with fewer practical levers to control the domestic agenda. After failing to overhaul the constitution to beef up presidential powers, Mr. Erdogan will instead rely on a handpicked prime minister to control parliament from afar. That looks likely after current President Abdullah Gul, an ally but also a potential rival to Mr. Erdogan, said he wouldn't seek the premiership because he doesn't want to be a caretaker prime minister subservient to the president.
Analysts said Mr. Erdogan would likely seek to extend a successful political strategy of polarizing the electorate to galvanize support for his leadership and his party in the run-up to parliamentary elections in 2015.
"This will take Turkey into uncharted waters," said Wolfango Piccoli, director of Teneo Intelligence, a political risk consultancy. "Erdogan will bring to the office his own style of aggressively defiant government, typified by micro-management, bullying of opponents and a penchant for polarization rather than conciliation, all facilitated by a cadre of sycophantic advisers."
July 2 2014, 09:38