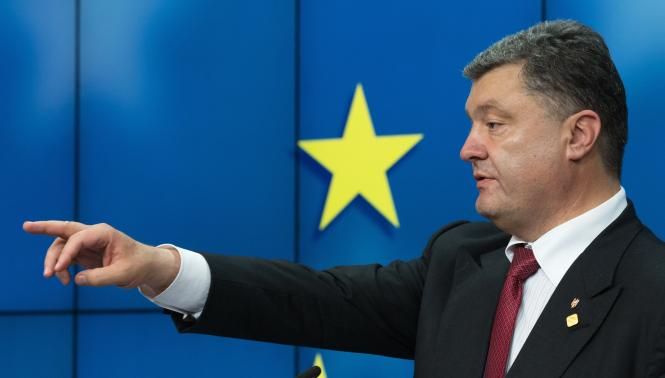 Ukraine's President Petro Poroshenko attends a news conference at the EU Council in Brussels June 27, 2014.
Ukrainian forces struck at pro-Russian separatist bases in eastern regions with air and artillery strikes on Tuesday after President Petro Poroshenko announced he would not renew a ceasefire but go on the offensive to rid Ukraine of "parasites", reuters reports.
Within hours of Poroshenko's early morning announcement, the military went into action against rebel bases and checkpoints in the east which has been in separatist ferment since April.
Saying Ukrainian forces had launched attacks "from the air and land", the defense ministry said: "The terrorists' plan to significantly escalate armed confrontation has been disrupted and the threat of losses to the civilian population and service personnel has been liquidated."
There was no immediate word on casualties.
Poroshenko, who accuses Russia of fanning the conflict and allowing fighters and equipment to cross the border to support the rebels, turned his back on another renewal of a 10-day unilateral ceasefire after four-way telephone talks involving the German and French leaders and Russia's Vladimir Putin.
Showing impatience at what he had heard from Putin, Poroshenko said in his early morning statement that Ukraine had not seen "concrete steps for de-escalating the situation, including strengthening controls on the border."
In Moscow, the foreign ministry hinted that the United States stood behind Poroshenko's decision not to extend the ceasefire.
"There is an impression that the change in Kiev's position ... could not have come about without influence from abroad, despite the position of leading EU member states," it said in a statement.
Separately, the speaker of Russia's lower house of parliament called for a new ceasefire. "We think that without a truce, without the start of dialogue, it is simply impossible to restore peace, justice and law and order in Ukraine," Sergei Naryshkin, an ally of Putin, was quoted as saying.
Poroshenko, just over three weeks in office, is also facing rising anger at home and from the new political establishment over military losses. He is under pressure to switch to more forceful action against the rebels after a ceasefire which many say was used by the rebels to regroup and rearm.
A statement tweeted by the Ukrainian foreign ministry on Monday night said 27 Ukrainian servicemen had been killed and 69 wounded since the ceasefire began on June 20.
"DIRT AND PARASITES"
Poroshenko, announcing the military would now act to answer the "terrorists, militants and marauders", accused the rebels of failing to keep to the truce or follow a peace plan he had outlined. Later on his Facebook page, the 48-year-old leader warned the future would be difficult, adding: "we must be united, because we are fighting to free our land from dirt and parasites."
"After the president's speech, the ATO (Anti-Terrorist Operation) went into action. We opened artillery fire, carried out air strikes at the strategic points of the terrorists and places where they are concentrated," military spokesman Oleksiy Dmytrashkovsky said.
Rebels had fired on an SU-25 attack aircraft, damaging it, but the plane had manage to land safely at its air base, he said. He denied a rebel report that a military helicopter had been brought down. One Ukrainian serviceman had been killed and 17 wounded in the past 24 hours in rebel attacks on Ukrainian posts, Dmytrashkovsky said.
Poroshenko said he was willing to return to a ceasefire "at any moment" if it became clear that all sides were ready to carry out all aspects of the peace plan, including the freeing of hostages and creating effective border controls.
Poroshenko had extended a government ceasefire last week until 10 p.m. (1900 GMT) on Monday to allow for peace talks with a contact group involving separatist leaders, a former Ukrainian president, a senior representative of the OSCE rights and security body and Moscow's ambassador to Kiev.
"The unique chance to implement the peace plan was not realized. It happened because of the criminal actions of the militants. They publicly declared their unwillingness to support the peace plan as a whole and in particular the ceasefire," Poroshenko said.
EU SANCTIONS
Pro-Russian separatism erupted in Ukraine's east in April after street protests in Kiev toppled a Moscow-backed president, Viktor Yanukovich, after he had walked away from a free trade deal with the European Union that would shift Ukraine westwards.
Russia subsequently annexed Crimea and separatist rebels in Ukraine's Russian-speaking east seized buildings and strategic points, declaring "people's republics" and saying they wanted union with Russia.
Poroshenko last Friday signed the EU deal which Yanukovich baulked at in defiance of threats by Russia to carry out retaliatory trade action.
Moscow could face more penalties from the EU on top of existing asset freezes and visa bans unless pro-Russian rebels act to wind down the crisis in the Ukraine's Donetsk and Luhansk provinces.
EU leaders said on Friday they were ready to meet again at any time to adopt more sanctions on Russia. Diplomats said they could target new people and companies with asset freezes as early as next week. More than 60 names are already on the list.
Although it has drawn up a list of hard-hitting economic sanctions, the EU is still hesitating over deploying them because of fears among some member states of antagonizing Russia, their major energy supplier.
July 1 2014, 17:39