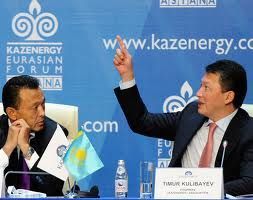 Tomorrow, on November 9, Sauat MYNBAYEV, the RoK Minister of Oil and Gas and Timur KULIBAYEV, Chairman of KAZENERGY Association will pay a working visit to Atyrau.
Within the framework of the visit it is scheduled to hold the Coordination Council meeting on the issues of science, innovations and Kazakh content development. Among the participants of the meeting are Atyrau Oblast Governenor Baktykozha IZMUKHAMBETOV, the deputies of the RoK Parliament, the heads of state authorities and representatives of oil and gas companies.
It is scheduled to sign cooperation memorandums between KAZENERGY Association, the Ministry of Oil and Gas and the Akimat of Atyrau Oblast.
The guests will visit Atyrau Refinery, a new kindergarten designed for 160 seats in the village of Akzhar, Chevron polyethylene pipe plant and new housing blocks in Nursaya residential district for those relocated from Eskene village of Makat District.
To recall, for relocation of Eskene and Baichunas villages to the oblast center (totally 2,500 people) KazMunayGas allocated 5,4 billion tenge for this social project on relocation. According to the plan the first families will move into the new apartments before the end of this year.
By Laura SULEYMENOVA
November 8 2012, 17:31