By Saule Tasboulatova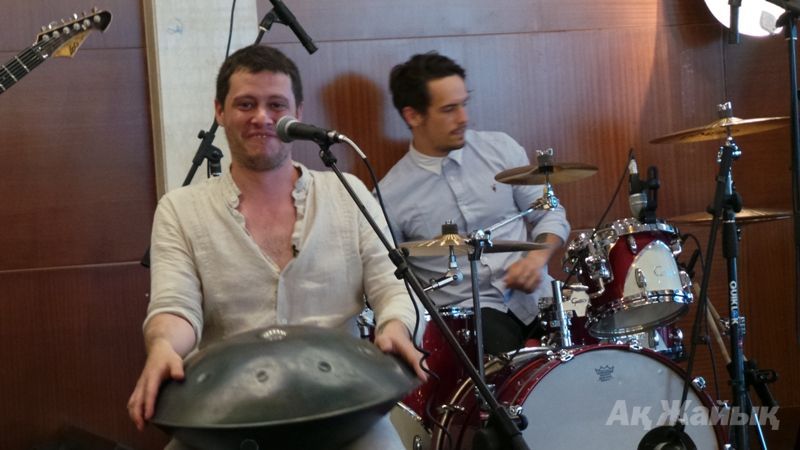 Jonathan Dassin in AtyrauOn June 20, the official part of the opening ceremony of the Honorary Consulate of France in Renaissance hotel finished with Jonathan Dassin's (on the photo) concert, the son of the famous singer Joe Dassin.
"MUSIC WAS MY PERSONAL CHOICE"
Open-faced, smiling 36-y.o. Jonathan is nothing like his father: neither in appearance, nor in his manner to dress or sing. It seems as if he is deliberately trying to avoid comparisons. Short-cut wavy hair, loose linen shirt with rolled-up sleeves, mix in music with elements of reggae, jazz and rock. And a very inspiring performance on an absolutely unusual musical instrument, looking like UFO, that has a fantastic sound. Nevertheless, I caught myself thinking that I was closely watching him, trying to find, at least, some similarities to his famous father.
Looking warm and friendly, but with a shadow of sad smile, always elegant and with inimitable French charm and, of course, his melancholic songs that make your heart weep. This is how Joe Dassin-senior was imprinted in my memory.
When at the end of the concert Jonathan understood that the audience is waiting for him to sing his father's songs, he sang "Et si tu n'existais pas". At that moment I thought that I caught the intonation and facial expression that were familiar to me since my childhood. Probably, it is the memory from the past that hinders my perception. But I understand that the main thing is that Jonathan has his own style. Dassin Jr. looks self-consistent on the stage and his music inspires interest.
– Jonathan, what was the instrument that you played?
– It is called Hang and was created in Switzerland. Only one person makes this instrument and he, maybe, made a few dozens of them, but now he stopped making them.
– We know so much about your father and almost nothing about you. Please tell a little about yourself.
– I started practicing music when I was 13. This was my personal choice, because my father died when I was two years old. It means that he never gave me piano or solfeggio lessons, and I didn't see him sing or play musical instruments. When I was 13, I started writing poetry and to compose songs. With my friends we founded a group and gave 30 concerts when were aged between 13 and 17. And then I decided to stop singing. I started to learn to play a trumpet and then I travelled to Tahiti - the French island in the Pacific Ocean, where I spent one year. Upon my return to France, I met the guitarist who is now playing in our group. But at that time I joined his group where I played trumpet. We played African music. We gave a lot of concerts that we are still remembering with delight. On our first concerts there were as much as seven thousand people. We played together in the band for 5 years and then I left this group because I wanted to sing again. I had the idea of making my own first album. I composed music and wrote lyrics. Together with the bass guitarist we made our first album and started looking for the disk producers, but nobody showed interest. So, we produced our album ourselves and sold it through the network of small shops. Currently I am working on my second album.
– How is called your style of singing and what is the name of your group?
– The group is called "Jonathan Dassin". When they ask me what do I sing, I answer that I sing French chanson. But jazz and rock are also present in my music. I would, probably, call it with one word- mix.
– Is your group popular in France?
– We could have enjoyed bigger popularity, but because we produced our first disk without special advertizing campaign, radio stations don't air us. It is impossible to gain big popularity without being on the air.
– Where do you usually perform?
– Sometimes in Paris. Currently we are preparing a big tour across France, and maybe by the end of this year we will start our tour. The tour will be in full swing in spring and summer of 2015.
DASSIN'S FAMILY TRADITION
– Do you maintain relations with your mother and your brother?
– My mother died 15 years ago …
– I am very sorry…
– That's ok, such is life (with a wide smile Jonathan continues to answer my questions). My younger brother Julien is also a musician.
– Do you have a family?
– Yes, I have and my daughter is 4 years old.
– You, probably, watch FIFA World Cup. What are your impressions? Who do you support?
– As a Frenchman I, of course, support the French national team. I am from Saint-Jermain, the suburb in Paris and the "homeland" of a well-known football club "Pari Saint-Germaine".
– Is it your first trip to Kazakhstan?
– Since January of this year I've already travelled five times to your country and played in clubs.
– What else do you do besides music?
– Frankly speaking, all my life revolves around music. Apart from writing music and lyrics, I manage administrative and accounting issues of our group. So I am pretty busy.
– You, probably, hear very often from people how much they liked Joe Dassin- your father. Does the fame of your father hinder your musical career?
– It was, probably, unpleasant when I was younger. After all, my father also didn't like when during an interview he was asked about his father, who was also a famous filmmaker of his time. It looks like a family tradition - it is necessary to fight to make a name for yourself, instead of bathing in reflected glory.
– Thank your for the interview!
Photo of the author
June 26 2014, 16:46