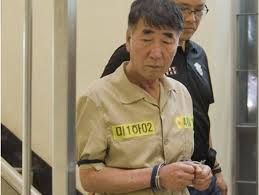 More than 300 people, most of them children, died in the disaster.Relatives of more than 300 victims of a ferry disaster in South Korea have arrived at court for the first official trial of crew members, euronews reports.
The trial is being held at the district court in the southern city of Gwangju.
The crew are charged with negligence and failing to perform their duty to rescue passengers. The captain and three officers are also charged with homicide.
They have been accused of prioritising their own safety and of causing more deaths by instructing people to remain in their cabins instead of evacuating the ship.
The defence says crew members were confused, some were injured and some panicked.
The Sewol ferry capsized and sank on April 16. Most of those on board were teenagers on a school trip.
June 24 2014, 16:41