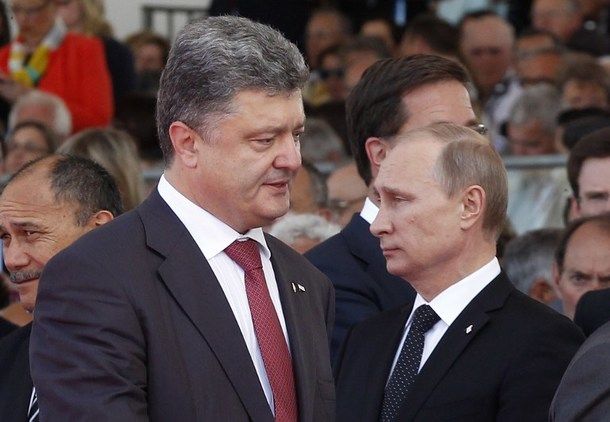 The presidents of Russia and Ukraine have had phone conversation to discuss a possible truce and peace plan. The proposal by Ukraine's newly elected leader Petro Poroshenko calls for a unilateral ceasefire in the east of the country and the disarmament of anti-government rebels. But during the call, Vladimir Putin also raised concerns about the deaths of two Russian journalists killed during shelling in eastern Ukraine on Tuesday. Moscow launched a criminal investigation into the case and demanded Kiev thoroughly investigate the incident.
The phone call happened after the deaths of 2 crew members of the Russian state-run VGTRK television channel who came under a mortar attack near the city of Luhansk in eastern Ukraine on Tuesday were confirmed. The Ukrainian President Petro Poroshenko promised a prompt investigation into the case.
The VGTRK correspondent Igor Kornelyuk sustained severe injuries and died in a local hospital. The sound engineer Anton Voloshin was considered missing, until the remains of his body were discovered later in the evening. Russian Investigative Committee has opened a criminal case into the deaths.
Members of the Russian Parliament made an official statement objecting what they called a "targeted kiling" of Russian journalists by Ukrainian government forces.
"The killing of Russian TV special correspondent Igor Kornelyuk and sound engineer Anton Voloshin near Luhansk is unfortunately continuing a cruel bloody chain of extermination of the Russian-speaking population of southeast Ukraine, a targeted, I'm underlining this - a targeted kill of our journalists." Mikhail Markelov with United Russia Party said.
Another Parliament member likened the incident to Yugoslavia scenario and blamed the United States in igniting violence in Eastern Ukraine.
"It is evident that the USA, using Ukrainian fascists, is promoting a Yugoslav scenario with regard to the historic Russian territory, aggravating a genocide of the Russian-speaking population in the Donetsk and Luhansk regions." Nikolai Kolomeytsev with Communist Party said.
Petro Poroshenko said a "brief" ceasefire will be implemented 'shortly', promising amnesty for fighters who lay down arms and those who have not committed grave crimes. Other key elements of the peace plan, expected to be announced within days, also include the release of hostages, the liberation of buildings occupied by rebels, and the drafting of constitutional amendments on power decentralization.
June 20 2014, 09:23