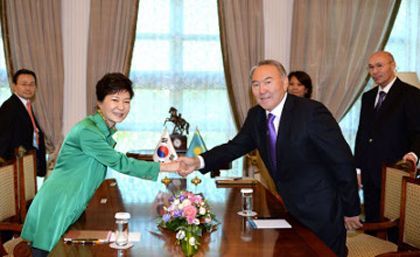 Photo: kazinformKazakhstan and South Korea signed several bilateral documents on cooperation within the state visit of Korean President Park Geun-hye to Astana, Kazakh presidency reported on June 19.

In particular the governments of the two countries signed an agreement on mutual visa-free regime; Kazakh Justice Ministry and South Korean State Legislation Ministry signed memorandum of understanding and cooperation; and Kazakh Education and Science Ministry and Korean Science, Information and Communication Technologies and Future Planning Ministry signed memorandum of understanding.
Moreover, Kazakh Ministry of Environment and Water Resources and Korean Forestry Service signed a memorandum of understanding on cooperation in the field of forestry and reforestation in Kazakhstan.

The two countries also signed a contract for services to maintain readiness of electric power generating plants.

All the agreements were signed following the meeting of Kazakh President Nursultan Nazarbayev and his Korean counterpart Park Geun-hye.

The parties discussed strengthening of high-level contacts, expansion of trade and investment and technological cooperation, as well as the development of bilateral strategic partnership.

Nursultan Nazarbayev and Park Keun Hye exchanged views on topical issues of the international agenda and compared their positions on key issues of bilateral cooperation in the framework of international and regional organizations.

"Interaction between our countries in the field of energy, car construction, engineering, construction, mining, health, education and science is developing dynamically, and the total trade volume reached $ 1.5 billion. I am confident that this visit we will allow to raise our cooperation in the economy and in politics to a new level," Kazakh President said.

Park Geun-hye stressed that Kazakhstan is a key partner and largest investment market is Central Asia's for Korea.

Following the talks the two presidents made a joint statement.
June 19 2014, 16:34