By Zeena Urynbassarova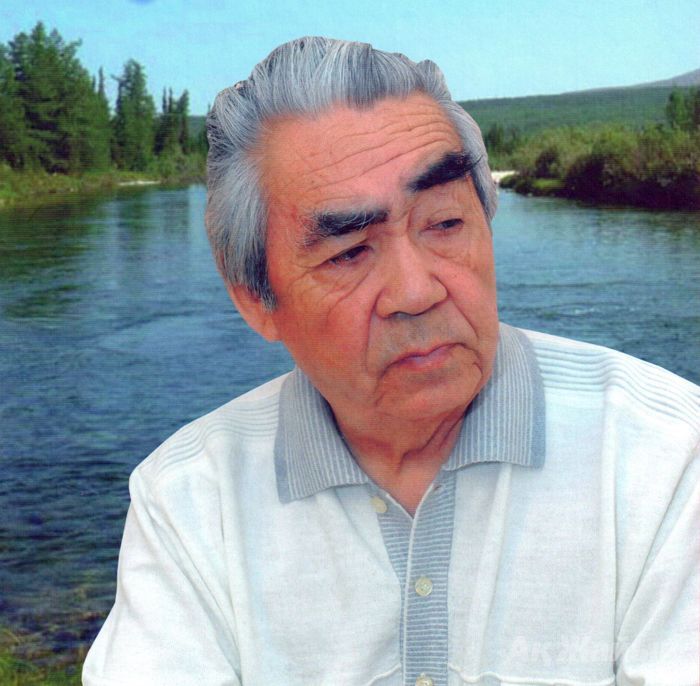 On June 14, the international song festival "Edil - Zhaik" dedicated to local composer and writer Ilya Zhakhanov was held in Kurmangazy House of Culture in Atyrau.
The singers arrived to the song contest from different regions of our country and China.
Return to the land of ancestors
Ilya Zhakhanov is a remarkable person. And not because of all his ranks and awards (he is an honored artist of Kazakhstan and Kyrgyzstan, the owner of "Parasat" order (Kazakhstan) and "Daneker" order (Kyrgyzstan) and many other. At the age of 75 Ilya, being a well- known composer, writer and musicologist, he entered the Atyrau State University to fulfill his long-nurtured dream and graduated with the diploma of an artist-painter.
... Since childhood little Ilya heard nostalgic stories of his elder relatives about their homeland that they once, due to vicissitudes of life, were compelled to leave. Zhakhanov's ancestors were from Tama clan that used to nomadise in the area located between two rivers – Edil and Zhaik (Volga and Ural).
Ilya was born in the foothills of Karatau, in Sarysu village of Zhambyl Oblast in south of Kazakhstan. In 1981, when he lived in Almaty, together with the poet Zhouban Moldagaliev he wrote a well-known song "Edil and Zhaik", although he never saw Volga and Ural Rivers.
He returned to the land of his ancestors in 2000, when Aitkali Nourgaliev, the then head of regional broadcasting company, invited Ilya to Atyrau to work and for permanent residence.
Brousilovsky's words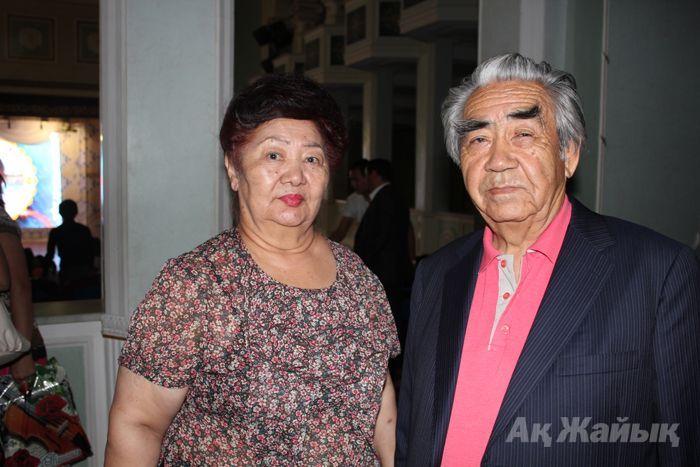 Ilya Zhakhanov and his wife Tiysh-apaWhen I came to Ilya Zhakhanov's apartment, his wife Tiysh-apa prepared tea and while sipping an aromatic drink, Ilya-aga told me a story how he tried to enter the music academy, but was not accepted. And here is the reason why.
After graduating from philological school of Kazakh State University, Ilya-aga came to music conservatory to pass the exams. Great composer Evgeny Brousilovsky was the member of exams committee. He carefully listened to Ilya Zhakhanov's songs and said: "This guy is a real national composer. He has already graduated from the musical academy of steppe music. Let's not spoil his natural gift. Let him compose songs in free manner, like all other national musicians of the steppe".
Ilya Zhakhanov wrote over 100 songs. He wrote his first song in 1956. Among his songs the most popular are "Daniyar's Song" and "Dzhamila's Song", written for the movie "Dzhamilya" on Chingiz Aitmatov's story, "Aselim-zhanym", "Zhailaukol keshter".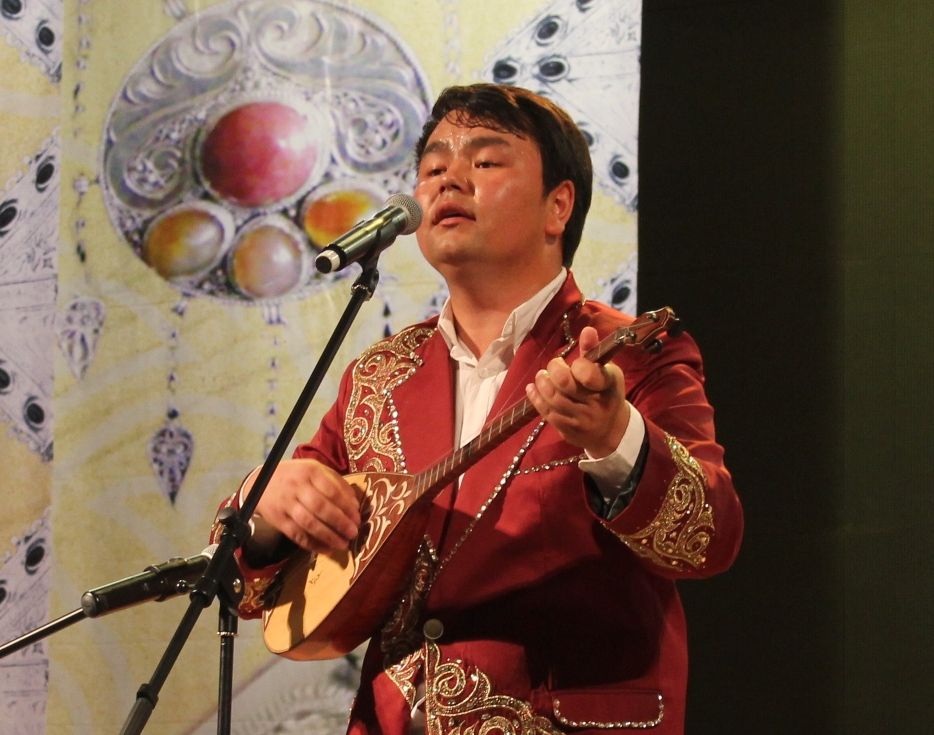 Saulezhan Tagziyauly (China), the singer with incredible voice.The period of his life in our city was also very fruitful. He created such popular songs, as "Dossor Waltz", "The nightingale of Makat", "Beautiful Kulsary city", "Zhaik is flowing", The soft winds of Oral", "Mangistau".
Ilya Zhakhanov is not only a composer, but also music researcher and writer. He wrote many books about the life and work of many musicians from Atyrau Oblast - our countrymen, who were unfairly forgotten: the singers Kyzyk, Aukat, the national composers Amangali, Kissa, Tanirberdi Moldabai and many others.
Here I also want to say a few words about his spouse Tiysh-apa (they celebrated their 50 years' marriage golden jubilee) who is not only his wife, but the best friend, his assistant, his first listener, first reader, his typesetter and even his editor!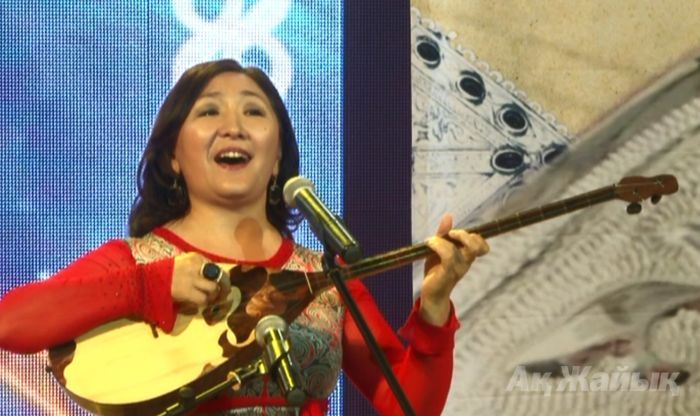 Saule Zhanpeisova was the first to perform many of Iliya Zhakhanov's songs.
What is happiness?
Edil Zhaik song festival opened with Iliya Zhakhanov's song " Sol bir an". The words to that song were written by Atyrau Oblast Governor Baktykozha Izmukhambetov.
Altogether there were 26 contestants. The jury was chaired by the legend of the Kazakhstan stage – Laki Kesoglu. The members of the jury were famous Kazakh musicians: the singer Saule Zhanpeissova, composer Roald Topchevsky, conductor Erkin Nurymbetov, variety show artist Indira Rasylkhan and composer Donedil Kazhimov.
Each contestant sung two songs written by Ilya Zhakhanov.
Duet of Dastan Esentemirov and Ernar Omirali (Oral) won Grand Priz of 1mln tenge. The first place (500K tenge) was awarded to Kairat Kakimov (Atyrau), the second place (350K tenge) was shared by Saulezhan Tagziyauly from China and quartet BatysStar (Oral). The third place (250K tenge) won Asylbek Kurmanov (Aktau), Zhanat Otepova (Atyrau) and Kairat Abeuov (Karaganda).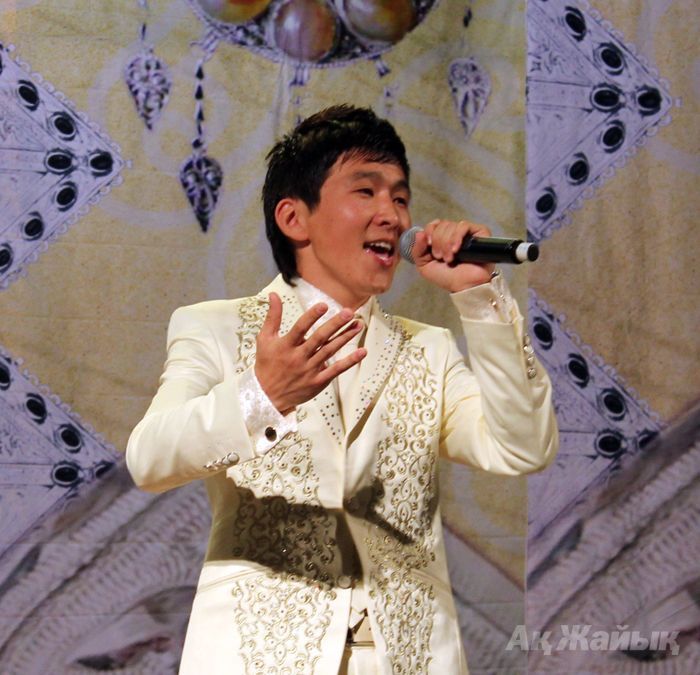 Asylbek KurmanovDifferent nominations were awarded to Manarbek Dauletov (Atyrau), Shari Sabakuly (China), Amangeldy Raikhan (Akmola), Iirim group (Zhambyl) and Aibek Dauletkaliev (Oral). They received 60K tenge each.
The festival ended with gala concert where winners and members of jury performed together.
Saule Zhanpeissova, who is the first performer of many Zhakhanov's songs, said: "Ilya Zhakhanov is one of the great composers of our time. The main topic of his songs is his homeland and its beautiful nature".
Standing on the stage at the end of the event Ilya Zhakhanov emotionally said: "There isn't a person who is happier than me".
And this is true. Because to hear how people sing your songs, to gain national recognition during his lifetime – isn't it a real happiness?
We wish you many years of happy life and new creative achievements, Ilya-aga!
Photos of the author
June 19 2014, 13:27