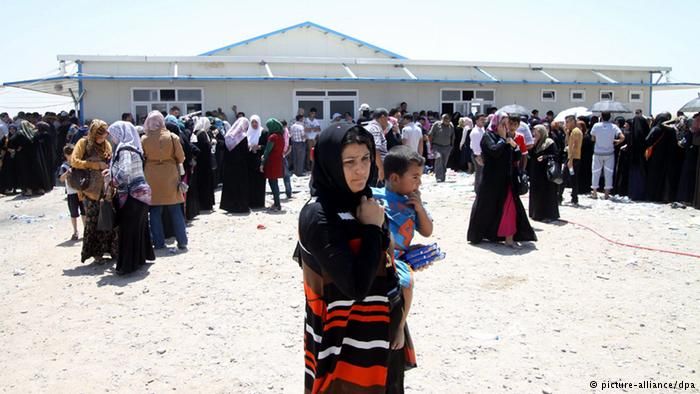 US President Barack Obama has said that Washington is examining ways to help Iraqi authorities combat militant advances out of the north, including "some short-term immediate things that need to be done militarily."
"Our national security team is looking at all the options," Barack Obama said on Thursday in the Oval Office, after militants fighting for the Islamic State of Iraq and Syria (ISIS) claimed vast areas of northern Iraq, most notably the city of Mosul.
"I don't rule out anything because we do have a stake in making sure that these jihadists are not getting a permanent foothold in either Iraq or Syria," Obama said. "In our consultations with the Iraqis, there will be some short-term immediate things that need to be done militarily."
Different drones, but no boots on ground?
The Wall Street Journal and Associated Press both reported that the US was already flying unmanned drones over Iraq for intelligence and surveillance purposes. "It's not like it did any good," the Wall Street journal quoted its source as saying.
Drone strikes or perhaps other airstrikes would seem the more likely option for the US intervening against ISIS fighters. The Associated Press reported that putting troops back on the ground in Iraq, after their late-2011 withdrawal, was not an option.
Obama also said on Thursday that the unrest should serve as a "wake-up call for the Iraqi government," criticizing Prime Minister Nouri al-Maliki's efforts to heal the sectarian divides between his Shiite-led government and Iraq's Sunni population. Most of the ISIS fighters are Sunni Muslims.
Maliki had asked parliament to declare a state of emergency in Iraq, broadening his military and security options against ISIS fighters. However, less than half of the country's MPs turned up for the vote, meaning they could not muster a quorum in Thursday's session.
UN Security Council convenes
After a two-hour, closed-door meeting in New York on Thursday, the UN Security Council demanded urgent and inclusive dialogue in Iraq, also condemning terrorist activities.
Russia, the current holder of the Security Council's rotating presidency, said the 15 members expressed unanimous support for the government and people of Iraq.
"This is a great opportunity for a fresh start in having an all-inclusive political dialogue and also in resolving the multitude of issues," Russian ambassador to the UN, Vitaly Churkin, said after the session. "There must be a strong and intensified effort to start this dialogue."
French ambassador Gerard Araud made similar comments aimed at Iraq's government via Twitter, calling for Baghdad to "respond to the concerns of the Sunnis and to outreach to the Kurds."
Iraq's Kurdish population appears to have seized on the unrest created by ISIS' advance, moving into the oil hub of Kirkuk as government troops abandoned their posts. Iraq's partially-autonomous Kurdish minority regard Kirkuk as the historical capital of Kurdish Iraq. Nouri al-Maliki's government has opposed these claims, albeit promising a referendum for the city's residents, which has been delayed repeatedly for security reasons.
Source: Deutsche Welle
June 13 2014, 11:59