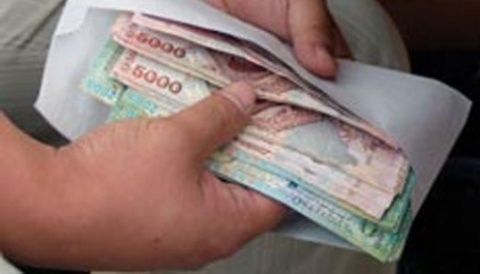 Atyrau city court # 2 sanctioned the arrest of the Head of Division over Migration Control of Migration Police Department - a certain Mr. I. He is suspected of committing a crime provided by the Article 311, part 2 of RoK Criminal Code("Receiving Bribes").
According to Altynai MUKHTAROVA, the press secretary of Atyrau Department of Financial Police, the officer was detained on October 31 during a joint operation of the Migration Department and Internal Security Department of Atyrau Oblast.
- Currently the criminal case is under investigation; other information in the interests of the investigation will not be disclosed, - reported Mukhtarova.
We learnt from our own sources that the bribe giving act took place in the building of Atyrau branch of Tsesna Bank, where Mr. I was caught red handed.
He personally received 150 000 tenge in bribes from LIGABUE CENTRAL ASIA LLP manager for easement of paperwork processing for foreign citizens, as well as for general protection of the activity of the company.
By Laura SULEYMENOVA
November 6 2012, 17:58