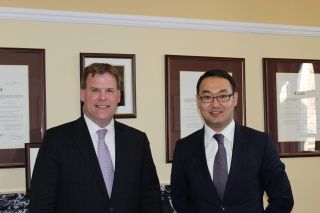 Deputy Minister of Foreign Affairs of Kazakhstan Yerzhan Ashikbayev and Canada's Minister of Foreign Affairs John BairdLast week the Deputy Minister of Foreign Affairs of Kazakhstan Yerzhan Ashikbayev visited Ottawa. His meetings with Canada's Minister of Foreign Affairs John Baird, Minister of State (Foreign Affairs and Consular) Lynne Yelich, Foreign Affairs' Associate Deputy Minister Peter Boehm and Assistant Deputy Minister Dan Costello provided an opportunity to have detailed discussion on a wide range of bilateral and multilateral issues of cooperation, azh.kz reports citing mfa.gov.
The parties welcomed intensification of political dialogue and successful development of trade and investment partnership between Canada and Kazakhstan.
During the last two years, 4 members of the Canadian Federal Government visited Kazakhstan, while Canada was visited by five members of Kazakhstan's Government, Chairperson of the Mazhilis of Parliament, Prosecutor General and other high ranking officials.
Kazakhstan is the main trading partner of Canada among the CIS, Eastern and Central European countries and Canada is the leading partner of Kazakhstan in the Americas. This is confirmed by the volume of bilateral trade that reached over $6 billion in 2012-2013. In addition to the traditional areas of partnership in oil and gas, uranium and agriculture industries and education, there is a significant potential for mutually beneficial cooperation between Kazakhstan and Canada in the area of civil aviation and specifically with the Bombardier Company, which is the 3rd biggest manufacture of civil aircrafts and the largest producer of railway machinery in the world.
The parties called for a regular dialogue between the Foreign Ministries of Canada and Kazakhstan at the level of deputy ministers and also the establishment of Business Council for economic partnership. Deputy Minister Ashikbayev informed about Kazakhstan's bid to the non-permanent seat on the UN Security Council for 2017-2018.
Visa issues, simplification and liberalization of visa regime, were in the focus of the meeting between Deputy Minister Ashikbayev and Minister of Citizenship and Immigration of Canada Chris Alexander. Deputy Minister Ashikbayev noted the importance of opening of the Consulate Office of Kazakhstan in Toronto and underlined the need for the issuance of Canadian visas to Kazakhstan's citizens in Astana. Minister Alexander welcomed the start of operations of the Consulate of Kazakhstan in the biggest city in Canada and expressed confidence that Ottawa and Astana can undertake practical steps to create a more flexible and effective visa regime, which will facilitate business activity and broadening of contacts between the citizens of the two countries.
June 12 2014, 12:35