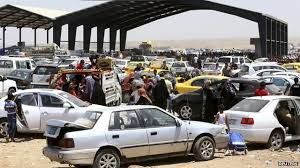 "Vital areas" of the city of Mosul have been seized, Iraq's prime minister saidAs many as 500,000 people have been forced to flee the Iraqi city of Mosul after Islamist militants effectively took control of it, the International Organization for Migration (IOM) says.
Troops were among those fleeing as hundreds of jihadists from the ISIS group overran the city and much of the surrounding province of Nineveh.
PM Nouri Maliki has asked parliament to declare a state of emergency.
The US said the development showed ISIS was a threat to the entire region.
ISIS - the Islamic State of Iraq and the Levant, which is also known as ISIL - is an offshoot of al-Qaeda.
It now controls considerable territory in eastern Syria and western and central Iraq, in a campaign to set up a militant enclave straddling the border.
'Chaotic situation'
Residents of Mosul - Iraq's second city - said jihadist flags were flying from buildings and that the militants had announced over loudspeakers they had "come to liberate" the city.
"The situation is chaotic inside the city, and there is nobody to help us," said government worker Umm Karam. "We are afraid."
June 11 2014, 16:28