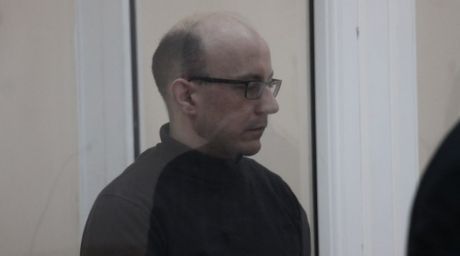 Peter Baruch in the court. Photo: uralskweek.kzThe court session took place in the specialized court that deals with minors-related cases. To recall, the British citizen Peter Baruch is accused of corruption of minors and production of pornographic materials with participation of minors, azh.kz reports.
-In the morning the court explained the rights to victims and the defendant, - said Almagul Ismagulova, the prosecutor's assistant. – There are three victims from Uralsk and seven victims from Atyrau/ who came to the court with their lawful representatives.
According to Ismagulova, Baruch doesn't admit the guilt He says that he took photos and videos of the girls only for personal use.
Two interpreters are working in the court. The translation is conducted both in verbal and in written forms. In total the case contains ten volumes.
The British national was charged with Corruption of Minors and Production and Distribution of Child Pornography, and Engaging Minors in Pornographic Events.
According to the prosecutor, Baruch met his victims through vk.com social network where he was registered as Patrick Brown. He lured his underaged victims with promises of a promotion in the modeling business. Later in his hotel room the so-called photographer insisted on taking nude pictures of the girls. He had over two thousand photos in his private archive when the police arrested him.
June 10 2014, 18:13