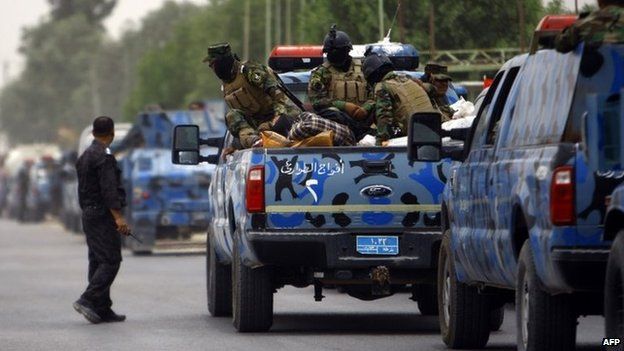 Reinforcements deployed to Mosul by the Iraqi military have failed to halt the militants' advanceIraq's prime minister has asked parliament to declare a state of emergency, after militants took control of the northern city of Mosul, bbc reports.
Overnight, hundreds of men armed with rocket-propelled grenades, sniper rifles and machine-guns seized the provincial government's offices.
They also destroyed several police stations before overrunning the airport and army's operations headquarters.
Meanwhile, a double bomb attack in Baquba has killed at least 20 people.
The blasts, targeting a funeral procession in the capital of Diyala province, about 60km (37 miles) north of Baghdad, also wounded 28 people.
In the past week, the jihadist Islamic State in Iraq and the Levant (ISIS) and its allies have carried out major attacks on cities and towns in western and northern Iraq, killing scores of people.
'Afraid'
The BBC's Jim Muir in Beirut says militants from ISIS have been informally controlling much of Nineveh province for months, imposing tolls of the movement of goods and demanding protection money from local officials.
After five days of fighting, they took control of key installations in the provincial capital, Mosul, which has an estimated population of 1.8 million.
On Monday, Nineveh Governor Atheel al-Nujaifi made a televised plea to the city's residents, calling on them to resist.
"I call upon the men of Mosul to stand firm in their areas and to defend them against the strangers and to form public committees in their districts to help their people and to protect their areas," he said.
But Mr Nujaifi fled shortly before the provincial government's headquarters fell to the onslaught late on Monday night.
On Tuesday, several residents told the Associated Press that black flags associated with jihadist groups were flying from buildings and that the militants had announced over loudspeaker that they had "come to liberate Mosul and would fight only those who attack them".
"The situation is chaotic inside the city and there is nobody to help us," said Umm Karam, a government employee. "We are afraid."
Many police stations are reported to have been set on fire - local TV stations showed pictures of plumes of smoke rising over the city - and hundreds of detainees set free.
An interior ministry official admitted that police and soldiers had fled after removing their uniforms, telling the AFP news agency: "The city of Mosul is outside the control of the state and at the mercy of the militants."
June 10 2014, 17:29