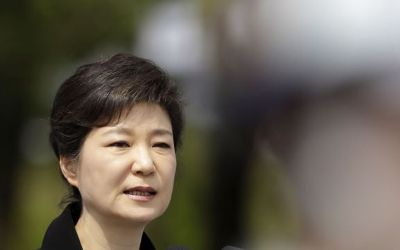 South Korean President Park Geun-hye will visit Uzbekistan, Kazakhstan and Turkmenistan next week as part of efforts to realize her proposed vision for a united Eurasia, her office said Monday.
The six-day trip, which is scheduled to start next Monday, is also aimed at expanding economic cooperation with the three Central Asian nations and strengthening Park's personal ties with their leaders, Cheong Wa Dae said.
In October, Park called for greater cooperation among Eurasian nations, saying the world's biggest continent has the potential to become a huge single market rivaling the European Union if economies in the sprawling region are tied more closely together through freer trade.
The "Eurasia initiative" especially calls for linking roads and railways across the continent to create a "Silk Road Express," connecting South Korea to Europe via North Korea, Russia and China.
On the first leg of her trip, Park will visit Uzbekistan from June 16-18 and hold summit talks with Uzbek President Islam Karimov in the country's capital Tashkent. The two sides are expected to discuss a wide range of political, economic and social issues, including ongoing joint projects in the gas and thermoelectric power plant sectors.
On June 18, Park will also visit Uzbekistan's second-largest city of Samarkand, known for its central position on the former "Silk Road" trade route between China and the Mediterranean.
From Uzbekistan, Park is scheduled to fly to Kazakhstan for a three-day trip and hold summit talks with Kazakh President Nursultan Nazarbayev in the capital Astana.
The summit is expected to focus on ways to expand bilateral cooperation to new sectors, such as science and technology, forestry and the environment, in addition to the two countries' ongoing joint projects to build a coal-fired power plant and a petrochemical complex in the Central Asian country.
Kazakhstan is the largest destination of South Korean investment among Central Asian nations, with more than 250 South Korean firms operating there, according to Cheong Wa Dae.
On the final leg of her trip, Park will spend two days in Turkmenistan as the first South Korean president to visit the country.
She is scheduled to hold summit talks with the country's president, Gurbanguly Berdimuhamedov, to discuss joint cooperation projects between the two nations and ways to support South Korean firms operating there.
A growing number of South Korean enterprises have begun to do business in Turkmenistan since 2009, leading to expectations that Park's visit will serve as an opportunity to further strengthen bilateral cooperation, Cheong Wa Dae said.
June 10 2014, 10:54