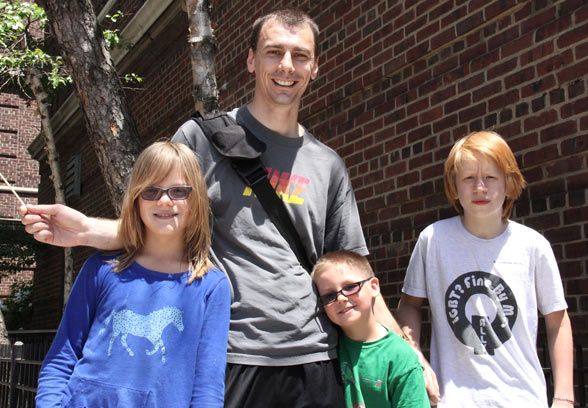 Th eQueens family attends the borough's 22nd annual Pride Parade.Jeff and Mary Timmons were surprised when their second son Gabriel told them he wanted to be a girl at 4, but the bigger shock was when their youngest daughter, Jamie, also turned out to be a transgender child, timesledger.com reports.
"We have two transgender children and I think we might be the only family in New York that does," Jeff said.
The couple adopted three children at young ages from Russia and Kazakhstan. The family asked that aliases be used for this story to protect their privacy.
When Gabriel first said he wanted to be a girl, his parents thought it might be a phase, but soon realized it was not.
"We said be what you want to be," Jeff said. "Gabriel was always a gentle boy. He was always playing with dolls rather than guns, trucks or wheels. He was a gentle soul. It made sense. All we cared about was the proper way to go about it."
The Queens parents sought advice from counselors, psychiatrists and doctors. At 7, Gabriel became Gabriella and started the second grade as a girl.
When their youngest child, Jamie, started saying she wanted to be a boy like her oldest brother Andrew, 11, the couple were well-equipped to handle the situation.
"We knew what to do. We had all the books and the resources," Jeff said.
Jamie, 6, made the transition before he started school and arrived for his first day of kindergarten as a boy.
Jeff said the idea did not come to him as naturally as it did to his wife, as he was worried how his children would be received by others.
"I didn't want the kids to be bullied. We knew they had a lot to overcome by purely being adopted," he said. "I was all right with having Gabriella wear girls' clothes in the house and at the playground, but didn't know if it was a good idea for her to wear them at school."
The transition, however, could not have been smoother and the family received a lot of support from the school the children attend in Jackson Heights.
"Sometimes there is a worry of trans children being shunned by their peers, but luckily we didn't have those issues," he said.
Gabriella is now 9 and will one day have to make the decision whether she wants to have surgery to fully transition. Before that time comes, Gabriella will start taking hormonal blockers before she hits puberty to delay its effects.
At 16, she will decide if she wants to continue living as a girl, at which point, she will start taking estrogen to induce female puberty in addition to the hormonal blockers to stifle male puberty.
"If a child reaches that age and then decides it doesn't feel like a girl any more and decides to be a boy, then they can just stop the blockers and go through all the steps of puberty a few years after his or her friends," Jeff said.
The proud father took his three children to this year's Queens Pride Parade.
"We always try to talk to the kids about it and make them proud of who they are," he said.
June 9 2014, 11:17