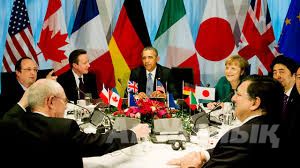 World leaders are joining hundreds of veterans in Normandy to mark the 70th anniversary of the D-Day landings, bbc.com reports.
Heads of state will meet at Ouistreham, one of the five beaches where Allied troops landed on 6 June 1944.
French President Francois Hollande will give a speech followed by US President Barack Obama. The Queen and Russian President Vladimir Putin will also go.
There will also be a re-enactment of the landings, which were the start of the invasion of Nazi-occupied Europe.
The day's commemorations began at midnight with a vigil at Pegasus Bridge near Ouistreham, marking the first assault of the D-Day invasion when British soldiers began the first Allied action of the campaign.
At 00:16 on 6 June 1944, six Horsa gliders carrying 181 men from the Glider Pilot Regiment and the 2nd Battalion, Oxfordshire and Buckinghamshire Light Infantry, landed silently to capture the strategically-vital bridge and another nearby.
This paved the way for soldiers landing on the Normandy beaches to move inland and reinforce their airborne colleagues. It also prevented the Germans from repelling the invasion on the coast.
Cpl Bill Bryant, of the Royal Marines, has returned to Normandy to mark the anniversary and he told the BBC that "all hell was being let loose" as he landed on the beach 70 years ago.
"I was scared out of my life," he said, adding that it was emotional to return to northern France as it brought back "too many memories".
The Prince of Wales recognised the soldiers' feats on Thursday when he laid a wreath at the spot where one of the gliders landed, before meeting veterans of the Glider Pilot Regiment and their families with the Duchess of Cornwall.
A 21-gun salute and a flypast will also form part of proceedings at Friday's ceremony.
June 6 2014, 11:25