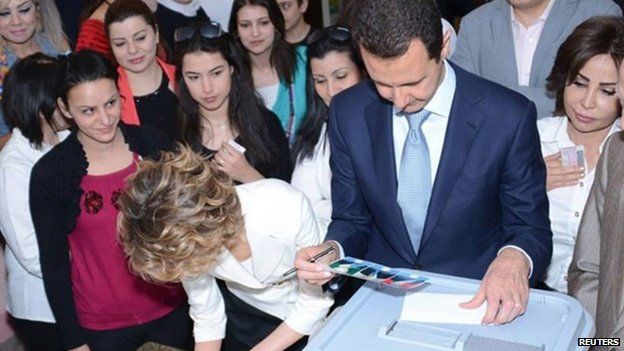 Syria's President Bashar al-Assad and his wife Asma cast their votes, 3 June President Assad himself voted in Damascus.Syria has held a presidential election in government-held areas, amid heightened security, bbc reports.
President Bashar al-Assad is widely expected to win a third seven-year term in office.
However, critics of the Syrian government have denounced the election as a farce.
Syria is three years into a civil war in which tens of thousands of people have died and millions more have been displaced.
Polls closed at midnight (21:00 GMT) after state media said voting had been extended for several hours because of a high turnout.
Analysts say Syrian officials have gone to great lengths to present the vote as a way to resolve the crisis.
This is the first time in decades that more than one name - just a member of the Assad family - has appeared on the ballot paper.
Correspondents say the other two candidates - Maher Hajjar and Hassan al-Nouri - are not widely known and have been unable to campaign on an equal footing with the president.
No votes will be cast, and there won't be a single ballot box, in what opposition supporters call "liberated" areas.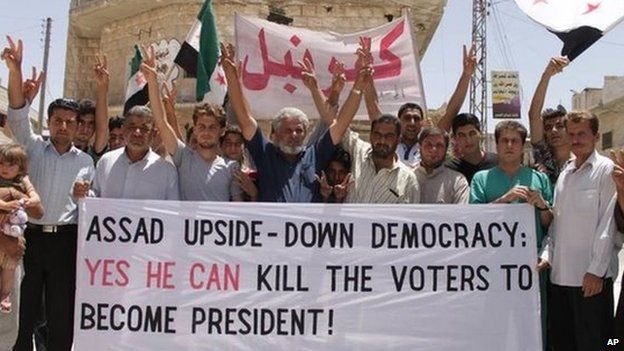 Protesters who oppose Syrian President Bashar Assad carry a banner during a demonstration at Kafr Nabil town in Idlib province, northern Syria ( 30 May 2014) But in rebel-held areas, people have dismissed the elections as a sham.The practical reason is that voting would mean allowing access for the agents of the regime. But the emotive reason is that people involved with the uprising would regard casting a vote while the regime's bombs are falling as an act of treason.
In towns and villages in Idlib over the weekend, people told me the election meant nothing to them: President Assad was a "butcher", a mass murderer - and anyway the regime would steal the election to give him 99% of the poll.
It is three years since the first street protests. There is bitter disbelief in opposition areas that President Assad should have lasted this long - and now that he seems about to embark on another seven-year term.
Prime Minister Wael al-Halqi said the election was a "historic day" for Syria and that a large turnout would "prove to the entire world that the Syrian people have decided and are determined to make the electoral process a success".
The interior ministry says there are 15.8 million eligible voters, both inside and outside Syria, and about 9,600 polling stations have been set up around the country.
In the Syrian capital, Damascus, people had to make their way through multiple checkpoints to cast their ballots.
'Voting in blood'
For thousands, this was a chance to pledge their allegiance to the president. Some have reportedly refused to go behind the curtain to cast their vote in privacy, instead publicly declaring their backing for Mr Assad.
Some polling stations provided pins or syringes to let voters mark their ballots with blood in a show of patriotism, Associated Press reported.
Odai al-Jamounai, 18, told the news agency that he chose to vote in blood, "to express by my love to my country and my leader".
In the coastal town of Latakia, a stronghold of Mr Assad, Zein Ahmed told the BBC he would be voting for the president because "no-one can lead this period better than him. We believe in him".
Threat of disruption
Voting is only taking place in government-held territory, with many parts of the country either under rebel control or in areas being fought over.
"Start Quote
Even as the election got under way in some areas, activists reported fighting in others.
Opposition fighters have warned they will try to disrupt the vote, and the National Coalition - the main Western-backed opposition group - is boycotting it.
Coalition leader Ahmad al-Jarba described the election as "theatre written with the blood of Syrians".
He accused President Assad of planning to bomb and shell polling stations in order to blame the opposition.
Jan Eliasson, Deputy Secretary General at the United Nations, told the BBC the election was a "setback" to efforts to find a political solution.
French Foreign Minister Laurent Fabius criticised the vote, calling it a "fake election" that would enable Mr Assad to continue a "merciless fight" against the opposition.
The BBC's Jeremy Bowen in Damascus says the timing of the election reflects a new confidence in the Assad regime.
Government forces have recently made significant military victories while some rebel groups have been fighting among themselves.
June 4 2014, 17:23