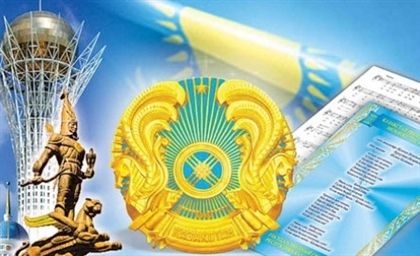 Kazakhstan celebrates the Day of state symbols on June 4, azh.kz reports.
On June 4, 1992 new state symbols of independent Kazakhstan have been approved. Starting from June 4, 2007, in accordance with the decree of the Kazakh president, this day is celebrated across the country with mass festive envets.
The State symbols are one of the immutable foundations of the government and represented on the Kazakh flag. A bright blue flag with a golden sun and a soaring silhouette of an eagle in the center. There is a vertical band near the flagpole with national ornaments. All images: the sun, eagle and national ornament are of golden colour. The author of the flag is Shaken Niyazbekov, the honored arts worker of Kazakhstan.
The emblem of the Republic of Kazakhstan is round and represent the shanyrak (the grated roof of the yurt felt house) that symbolizes the common home for the people of Kazakhstan. On both sides of shanyrak there are mythical horses with wings. On top there is a star and on the bottom part there is an inscription "Kazakhstan". Also all colors are golden. The authors of the emblem are Zhandarbek Malibekov and Shot-Aman Valikhanov.
The anthem, which was a popular song "My Kazakhstan"? according to the initiative of President Nazarbayev, was approved by the Parliament of the country on January 6, 2006. It was aired as an anthem for the first time during inauguration of President Nazarbayev on Janaury 11, 2006.
The author of the music is Shamshi Kaldayakov, the words were written by Zhoumeken Nazhmedinov and Nursultan Nazarbayev.
June 4 2014, 12:05